Exclusive
Celebrity Skincare Guru Kate Somerville Offers Summer Skin Tips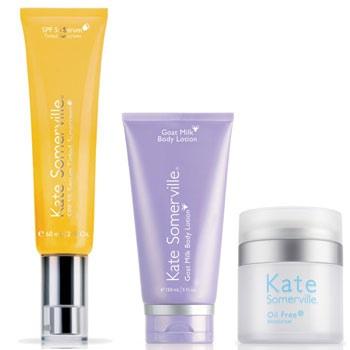 By Leah Ornstein - Radar Style & Beauty Editor
Kate Somerville is the woman behind Hollywood's most flawless faces. With a client database (including Jessica Alba and Lauren Conrad) that reads like the guest list at the Vanity Fair Oscar Party, the gorgeous skin health expert clearly knows a thing or two about sensational skin. RadarOnline.com has scored some tips from the skin expert on how to keep your face looking fabulous this summer season.
Article continues below advertisement
1. Always wear sunscreen, and don't forget to apply to your chest. There are fewer skin cells per inch on your neck and chest, so they tend to be thinner and more prone to aging and damage. Just like your face, they must be protected. For maximum protection, try her SPF 55 Serum Tinted Sunscreen, $45.
2. If you suffer from heat rash, cooling the body down is really important. Take a cool bath and pat (don't rub) dry afterwards- and use a lotion without heavy oils in it. Her clients swear by her Goat Milk Body Lotion, $32.
3. Stay out of the real sun and use self-tanner (Kate's Somerville360 Tanning Towelettes are a Radar face!) Trick everyone with a gorgeous glow without the damage.
4. Keep your skin hydrated by following this simple steps: exfoliate to slough dead skin cells off, hydrate your skin with water and steam, and lock it in with a good moisturizer (she recommends her Oil Free Moisturizer, $65). This external hydration must be complemented with internal hydration-make sure to drink lots of water throughout the day.