Celeb Tweets Help Avoid Carmageddon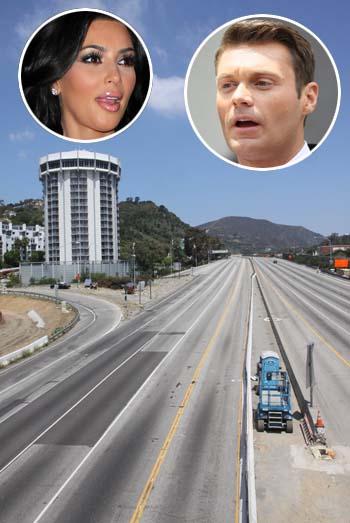 It seems that all the superstars who warned Angelinos to stay off the roads this weekend had an impact -- the dreaded Carmageddon has failed to materialize.
With 10 miles of the 405 Freeway -- the country's busiest road -- closed for the demolition of the Mulholland Drive overpass, there had been dire warnings about where the 500,000 drivers who use that stretch of road every weekend would turn.
Article continues below advertisement
So celebs, including Kim Kardashian, Ashton Kutcher, Ryan Seacrest, Christina Applegate and even William Shatner, were recruited by the LAPD to tweet suggestions that drivers just stay home and off the roads this weekend.
It worked. There have been no reports of congested roads anywhere!
There are still concerns about Monday morning commuter traffic -- the road is scheduled to reopen at 5 am -- but for now, Carmageddon is a disaster that never happened.