Amy Winehouse Was On Stage With Her Protege Just Three Days Before Her Death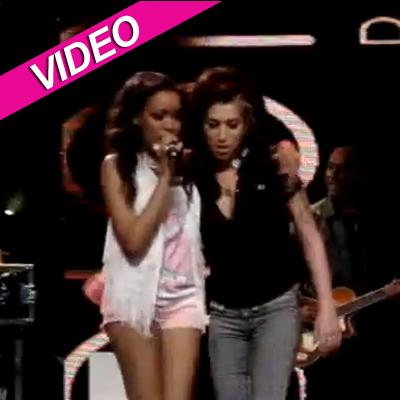 Looking surprisingly happy and healthy, Amy Winehouse made her final-ever public appearance just three days before her tragic death.
The 27-year-old singer, found dead in her London home Saturday, appeared on stage alongside her goddaughter and protege Dionne Bromfield during her gig Wednesday night at a London nightclub.
The talented Bromfield, 15, released her debut album on Winehouse's Lioness Records label in 2009.
Article continues below advertisement
Amy joined the teen on stage as she performed her hit Mama Said, and video of the two, obtained by RadarOnline.com, shows the Back to Black star dancing and clapping along to the music.
Wearing skinny jeans and a black polo shirt Amy chewed gum and smiled throughout the performance before hugging Bromfield and addressing the screaming crowd.
Winehouse had not been on stage since her disastrous appearance in Belgrade last month. That show was cut short by a booing audience, leading to the cancellation of her planned European comeback tour.