Amy Winehouse Joins Other Dead Rockers In Macabre '27 Club'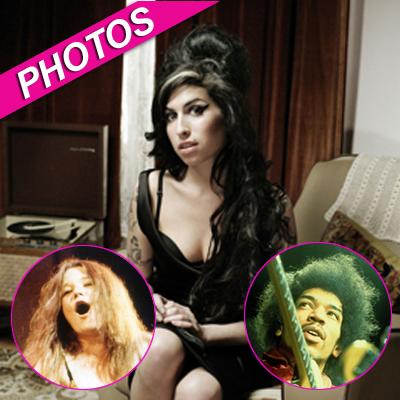 When Amy Winehouse died Saturday, she instantly became a member of the bizarre '27 Club.' That's an extraordinary group of famed musicians who all died at the young age of 27.
The most famous member of the 'club', which is also referred to as 'Forever 27', is Nirvana frontman Kurt Cobain who committed suicide on April 5, 1994 by shooting himself in the head following a heroin and Valium binge.
Article continues below advertisement
Kurt was married to Hole rocker Courtney Love at the time and the pair had a 2-year-old daughter, Frances Bean.
Love's own band-member Kristen Pfaff died several months later, on June 16, 1994, from an opiate overdose. She was also 27.
Guitar legend Jimi Hendrix choked to death on his own vomit after overdosing on sleeping pills and red wine on September 18, 1970 and just weeks later, on October 4, singer/songwriter Janis Joplin died from a heroin overdose on October 4. They were both 27.
The Doors front man Jim Morrison was found dead at 27. He was discovered in a bathtub in his Paris apartment on July 3, 1971 and was listed as having died from congestive heart failure, although no autopsy was carried out and Jim had a history of heroin abuse.
Brian Jones, one of the founding members of The Rolling Stones, drowned at age 27 in a swimming poll on July 3,1967.
Robert Johnson is widely believed to be the original member of the '27 Club' after he was poisoned with strychnine and died on August 16, 1938.
The legendary guitarist is said to have influenced scores of other musicians since his death including Robert Plant of Led Zeppelin, Eric Clapton, and even Brian Jones.
RELATED STORIES: