Italian Cops Used 'Dirty Gloves' When Handling Evidence in Amanda Knox Case, Experts Testify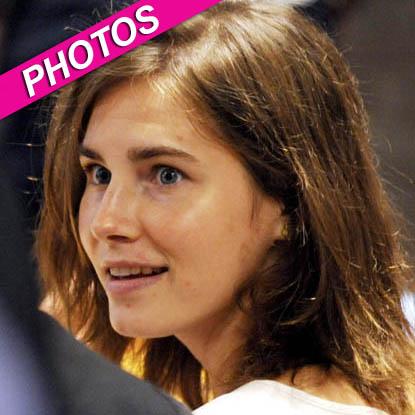 Italian police allegedly used dirty gloves when they handle crucial evidence used to convict Amanda Knox, experts testified during Amanda Knox's murder conviction appeals hearing on Monday.
That is just one of a series of blunders officers made while they searched the bedroom of murder victim Meredith Kercher after she was found with her throat cut in a cottage she shared with American student Knox.
Article continues below advertisement
Other mistakes include not wearing protective caps and masks and allowing people to tramp in and out of the murder scene.
These errors mean that DNA evidence used to convict Knox was unreliable two independent experts told the appeals court in Perugia, Italy.
Professors Stefano Conti and Carla Vecchiotti, from La Sapienza University in Rome, wrote a 145 page report after reviewing evidence use to convict Knox and Raffaele Sollecito, an IT graduate who she started going out with 10 days before the murder.
Video shootage shown in court showed that that one officer was wearing a plastic glove smudged with dirt when he collected a vital piece of evidence - a strap cut from Miss Kercher's bra by her killer or killers.
Prosecutors maintained during the year-long trial in 2009 that the bra strap bore DNA material from Sollecito and so linked him to the murder.
But the court was told that the strap was not found by police until 46 days after the murder, by which time it had probably become contaminated evidence.
Article continues below advertisement
The experts also raised questions over the presumed murder weapon, a large black-handled kitchen knife found in Sollecito's apartment.
Prosecutors insisted that Knox's DNA was on the handle of the knife and Miss Kercher's on the blade.
But the two forensics specialists said they found no trace of Miss Kercher's blood on the blade and that the presence of other DNA material on the blade was questionable because the samples that were tested were so small.
Prof Vecchiotti claimed the collection and sampling of evidence did not meet international standards.
Sitting in the court Knox - wearing a white shirt - listened intently to the evidence from both experts.
Knox, 24, and Sollecito, 26, were convicted in Dec 2009 of the sexual assault and murder of Miss Kercher, 21, of Great Britain, who was on a one-year exchange course from Leeds University when she was killed.
Article continues below advertisement
Both have always maintained their innocence.
Knox's family is growing confident that she could be acquitted and allowed to return home to Seattle.
Chris Mellas, her stepfather, said: "We went through all this evidence in the pre-trial hearings, then again during the trial, and now we're hearing it again. But finally someone is listening."
The appeals hearing in Italy continues. A decision is expected t the end of September.