Will Casey Anthony Testify? We Could Know Soon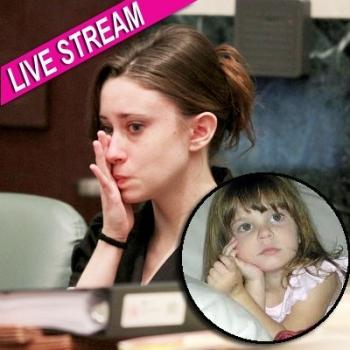 by RadarOnline.com Staff
When court resumes at 1:30 pm ET Thursday in the explosive Casey Anthony murder trial, we could find out if Casey will take the stand in her own defense.
Prior to the court taking a recess for lunch at 11:30 am ET, the defense appeared to be wrapping up its case – calling Casey's father George Anthony to the stand, followed by her mother Cindy and brother Lee. (Earlier Thursday morning, George's alleged mistress Krystal Holloway testified that she did have an affair with George and that George did say events involving Caylee had "snowballed out of control" –although he did not elaborate).
Article continues below advertisement
Evidence Photos Introduced Into Casey Anthony Murder - See The Photos
The defense did not rest its case prior to breaking for lunch, leading to speculation that perhaps, it still has another witness to call.
The defense has indicated it would be wrapping up its case today, and after the state's rebuttal, it will go to the jury – perhaps as early as this weekend, or early next week.
If Casey, 25, is convicted of first degree murder, she could face the death penalty.