VIDEO: The Voice's Adam Levine Responds To Jabs From American Idol's Randy Jackson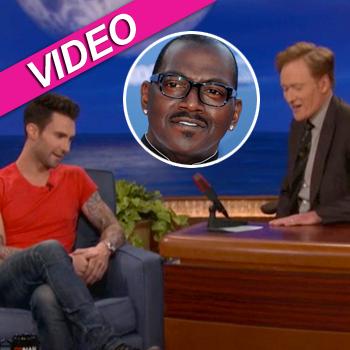 The Voice's Adam Levine, appearing on Conan Thursday, jabbed back at American Idol's Randy Jackson, who was irked after the Maroon 5 singer said that "anyone who gets sent home from The Voice could win American Idol."
Last month, Jackson told The Hollywood Reporter: "It's a great thing when talent can be simple, honest and revered as opposed to spinning around with gimmicky chairs ... maybe Simon Cowell should have people opening doors.
Article continues below advertisement
"Like, 'Knock, knock; Who's singing? I can't see you!'"
Watch the video on RadarOnline.com
In retort, Levine said he "still believes" the talent level on the NBC hit blows that of its' Fox counterparts out of the water, adding he thought it was funny he found his way onto Jackson's radar.
"He got mad about it ... it wasn't like, a jab at Randy Jackson ... he got angry, and he responded and I don't even know what he said ... something about, 'The Voice is gimmicky' ...