The Sexiest Summer Movie Blockbuster Bombshells!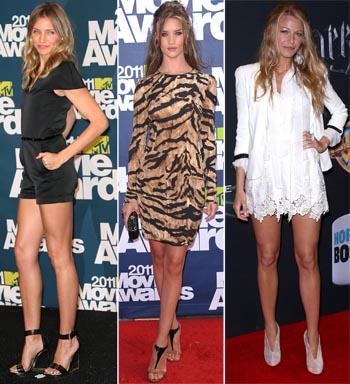 Summer blockbuster season is well underway and we can't wait to see some of Hollywood's most sizzling stars steam up the bigscreen!
Gossip Girl Blake Lively is starring in her biggest film to date, Green Lantern, which hits theatres on Friday. The beautiful blond plays Carol Ferris, who is superhero Ryan Reynold's love interest -- and she is sure to win his heart with her impossibly perfect looks.
Next up is Cameron Diaz in Bad Teacher, which is coming out on June 24th. Judging from the previews, which feature Cam in a bikini top and uber-tiny cutoff shorts, there will be no lack of sexy in the classroom comedy!
MORE ON:
Rosie Huntington Whiteley
Article continues below advertisement
Finally, Victoria's Secret model-turned-actress Rosie Huntington-Whiteley will made her debut in the cinema when Transformers: Dark of the Moon hits the bigscreen on July 1st.
How do stars shape up for their blockbuster roles? Shape Magazine has all the details!
Click Here To See The Best Body Transformations For A Movie Role