PHOTOS & VIDEO: Donald Trump & Sarah Palin's Pizza Date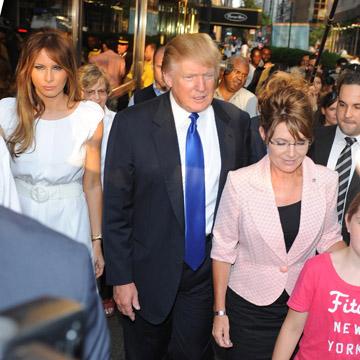 It was a slice of (Republican) heaven.
Sarah Palin and Donald Trump went out for some New York-style pizza in Manhattan on Tuesday, and a crush of cameras followed for the photo-op.
Palin -- who has yet to announce whether she will run for the GOP nomination for president -- was coy when asked about her East Coast bus tour, saying: "I'm looking forward to tomorrow. Ellis Island."
She said her trip was more about seeing the sights than jumping into the race, but Trump's appearance at her side only fueled speculation that she is in fact planning to run.
Article continues below advertisement
When asked about Palin's chances, Trump said: "I'd love her to run."
Trump had himself toyed with the idea of running, but last month, he announced he would not enter the race.
In addition to visiting Ellis Island on Wednesday, Palin will also make a stop at the Statue of Liberty.
Her bus tour will then continue, possibly to New Hampshire.