PHOTOS: The Best, Worst & Wackiest Fashions Of The MTV Movie Awards Over The Years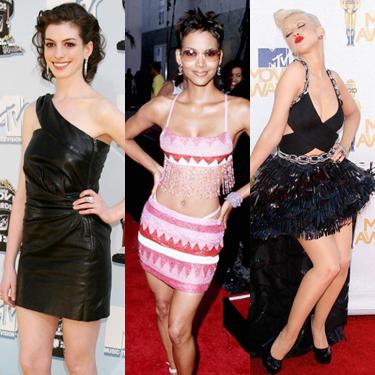 by RadarOnline.com Staff
The MTV Movie Awards is one of the most laid back award shows of the year, but stars still manage to rock and shock with their red carpet attire.
In anticipation of the 2011 show on Sunday, RadarOnline.com is taking you on a walk down MTV Movie Awards red carpet memory lane!
At last year's show, bigscreen babes like Scarlett Johansson, Eva Mendes, Jessica Biel and Kristen Stewart brought out the bombshell, while Lindsay Lohan grabbed attention with her infamous Pamela Roland SCRAMsuit.
Article continues below advertisement
Some of our favorite fashionistas have provided us with some of the biggest red carpet disasters! Remember Halle Berry's getup in 2000? The gorgeous actress showed off a whole lot of skin--- along with her thong panties, wearing a sequined bra top, which featured fringe detail, with a sliver of a skirt.
In 2001, Julia Stiles wasn't exactly stylin' herself, wearing a Mets sportsbra with jeans.
Megan Fox looked pretty in pink Zac Posen in 2008, attending the show during her Transformers era, as did Rihanna the year before, wearing a perfectly patterned and un-shocking frock.
One of Jessica Simpson's most iconic looks occurred at the show in 2005, appearing startlingly skinny in a black, backless sheath, where Blind Side babe Sandra Bullock showed up in jeans and a belted tunic.
What were some other shocking and rocking looks? Click here to find out!