Meet The Carey Family — America's Latest Sextuplets Identities Revealed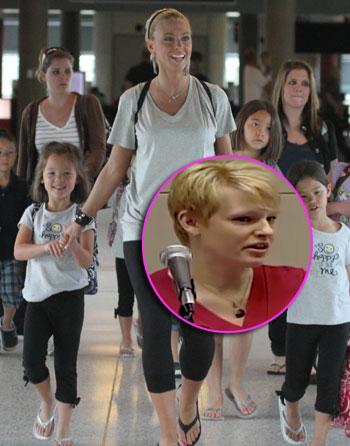 RadarOnline.com Staff Reporter
Watch-out Kate Gosselin because America has a new batch of Sextuplets to swoon over.
Proud parents Stacey and Brendan Carey were formally introduced to the world today – their brood includes three boys and three girls.
The Carey's – who are from Feasterville a Philadelphia suburb – had their babies at Abington Memorial Hospital last Wednesday.
All the new-borns weigh between 1 and 2 pounds and are responsive. Their names are Emma, Samantha, Olivia, John, Patrick and Connor – they all remain in intensive care.
Article continues below advertisement
Stacey Carey, 33, is a school teacher while her husband Brendan, 41, is a bar tender.
PHOTOS & VIDEO: Kate Gosselin Goes Southern Belle On Us
Stacey Carey revealed: "We weren't expecting a family this big, but we're happy now – I was 'very, very surprised' when I was told I was having sextuplets."
Doctors said the Careys conceived while working with a fertility specialist and that the babies were in their 27th week when they were delivered by cesarean section. They remain in critical condition.
Dr Gerard Michael Cleary of the hospital's neonatal intensive care unit said: "They are all responding to therapy but they are in no way out of the woods."
The Carey's also have a 16-month-old daughter Julianna – Pennsylvania of course already has there own sextuplets after Jon and Kate Gosselin had their babies back on May 10, 2004.
The couple became household names through the reality show Jon & Kate Plus 8 which eventually led to them divorcing – she currently has the spin-off series Kate Plus 8.