LIVE STREAM: Testimony Resumes In Casey Anthony Trial –  Watch It Here Live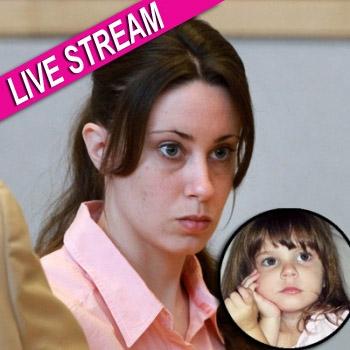 By Neil Woulfe - RadarOnline.com News Director
Testimony resumes Monday in the Casey Anthony trial in central Florida, after it came to an abrupt early end on Saturday, and once again, RadarOnline.com is live streaming the proceedings, starting at 9am ET.
On Monday morning, during a recess in which the jury was not present, Judge Belvin Perry announced that three court-appointed doctors examined Casey over the weekend to see if she is competent to proceed; the judge said they found she is in fact competent to proceed.
Article continues below advertisement
The trial has been full of drama since it began, and this weekend was no exception. Judge Perry surprised court watchers by ending Saturday's session early after meeting with lawyers from both sides in the cases; the judge said a "legal matter" had come up – he did not explain further.
Casey, 25, is accused of murdering her 2-and-a-half year old daughter Caylee in the summer of 2008; her body was found six months later in a wooded area.
While the prosecution claims Casey used duct tape to suffocate the girl, her defense maintains Caylee accidentally drowned in the family's swimming pool and that Casey's father, George Anthony, covered-up the death.
Graphic Crime Scene Pictures Introduced Into Evidence
On Friday, Casey's attorneys showed jurors several photos of Caylee climbing a ladder into an above-ground pool as her grandmother supported her from behind.