Exclusive
Who Wore It Best? Kate Middleton vs. Sandra Bullock vs. Ashley Tisdale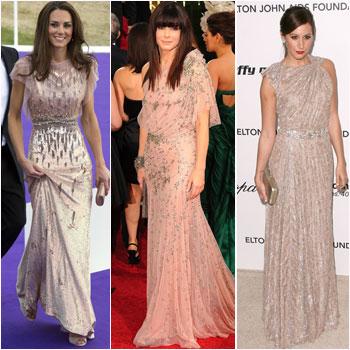 The Duchess of Cambridge, Catherine Middleton, has been setting new trends recently with her fabulous fashions, such as the Reiss dress that flew off the shelves when she wore it to meet the Obamas.
But this week it was Kate who was following in other stars' fashion footsteps.
Designs very similar to the sparkly Jenny Packham gown that the newlywed wore to the ARK (Absolute Return For Kids) Charity Gala on Thursday have already been a popular sight on Hollywood red carpets before the Duchess made is famous.
MORE ON:
Duchess of Cambridge
Article continues below advertisement
Actresses Sandra Bullock and Ashley Tisdale have both worn the pearlescent rose sequin gown with Swarovski crystal by the famed British designer, which is part of her New York Spring 2011 runway show.
Just like with the nude Reiss dress before it, Middleton's Jenny Packham gown (which reteails at $6,300) has already sold out in the U.K.
An Oscar-winning actress and TV stars battle to outshine the future princess in a three-way who wore it better battle!