Jon Stewart Gashes Hand While Taping Weiner Skit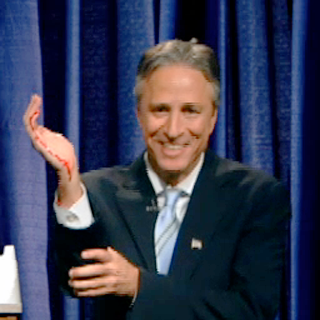 The show must go on -- even when you're bleeding.
On Tuesday's The Daily Show, Jon Stewart badly cut his hand while taping a skit about his friend, Rep. Anthony Weiner, but ever the pro, the funnyman kept on going anyway.
Stewart injured himself when he broke a glass and gashed his hand while filming a bit that had him mockingly reenacting Weiner's news conference on Monday in which he admitted to sending lewd photos of himself to six women.
Article continues below advertisement
VIDEO: Watch The Daily Show Mishap
Eventually, the taping was briefly stopped so Stewart could get medical attention; it resumed once he was bandaged up. The accident was left in Tuesday's show.
After college, Stewart and Weiner's girlfriend were roommates in New York's Soho neighborhood, and Weiner spent a lot of time there and the two became friends.
RELATED STORIES:
DOCUMENT: Read The Full Transcript Of Rep. Weiner's Explicit Messages
MORE ON:
hollywood happenings