John Edwards Indicted In Affair Cover-Up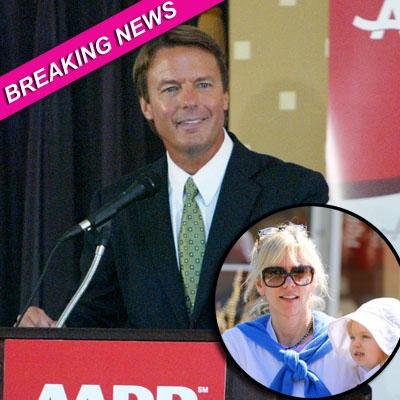 Disgraced politician John Edwards has been indicted after a two-year federal investigation into whether he illegally used campaign contributions to cover up an extra-marital affair while he was running for the White House.
A grand jury in the Middle District of North Carolina handed up the indictment Friday morning after talks to negotiate a plea deal fell through.
Article continues below advertisement
The six counts Edwards was indicted on include: four counts of illegal campaign contributions, one count of conspiracy and one count of false statements.
Edwards is expected to face a judge in a Raleigh, North Carolina courtroom on Friday afternoon to hear the charges against him in connection with accusations he used hundreds of thousands of dollars in unreported political funds to mask his affair with videographer Rielle Hunter three years ago.
Edwards' lawyers claim their client did not violate the law, as the donations prosecutors say he funneled inappropriately were gifts from friends, not political contributions that should have been reported.
Insiders told North Carolina's WTVD-TV that the politician's affair with Hunter began early in 2006, and later that year, she was given a job as a videographer for Edwards 2008 campaign.
The next year, Edwards got Hunter pregnant, and his estranged aide Andrew Young told the station he and his wife were given money from campaign donors -- wealthy widow Bunny Mellon and Edwards' late associate Fred Baron -- to help conceal the situation.
Article continues below advertisement
Democratic consultant Jack Quinn told that AP that whatever happens, the charges likely signify the end of the road for a one-time political powerhouse.
"John Edwards is the Charlie Sheen of American politics," Quinn said. "Great hair and no chance for rehabilitation."
Don't forget, it was the National Enquirer, headed by David Perel, who exposed the politician's shenanigans to the shock of the world.