Joey McIntyre & Wife Welcome Baby Girl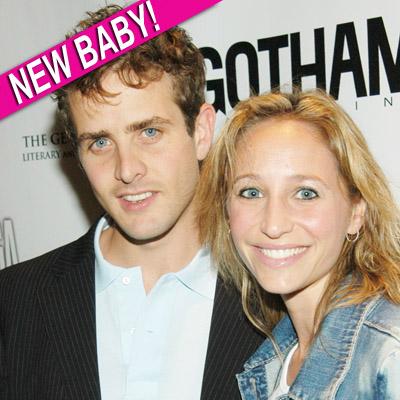 There's a new kid on the block.
Singer/actor Joey McIntyre and his wife Barrett welcomed a baby girl on Tuesday afternoon -- their third child.
"Kira Katherine McIntyre was born May 31st at 12:30 pm PST. 7 lbs., 3 oz., 21 in. A beautiful baby girl with great timing and gorgeous hair," McIntyre, 38, tweeted.
In addition to baby Kira, the couple also has Griffin Thomas, 3, and Rhys Edward, 17 months.
McIntyre first shot to fame when he joined New Kids on the Block in 1985, just before his 13th birthday.
Article continues below advertisement
NKOTB became one of the most successful boy bands to date, producing two number one albums on the US Billboard charts.
In 1991, Forbes listed the band as the highest-earning entertainers, beating Madonna and Michael Jackson. The band disbanded in 1994.
In 1998, he launched a solo career, and in 2008, he resumed touring with the newly-resurrected NKOTB.
In 2006, he appeared in the first season of ABC's Dancing with the Stars and finished third with pro-partner Ashly DelGrosso.