Exclusive
Jersey Shore's Pauly D Sued -- Accused of Stealing Name & Ruining Reputation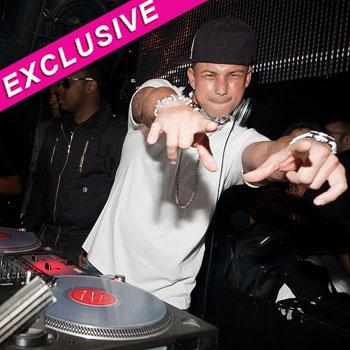 Will the real Pauly D please stand up!
A disc jockey is suing Jersey Shore star Pauly D for ruining his business, his reputation and even leading him to getting death threats from jealous boyfriends.
Paul Lis of South Windsor, Connecticut goes by the name DJ Paulie when he plays at weddings and parties, but even though he never fist-pumps, tans or hits the gym, he claims the hard-partying reality star has ruined his business because people get their names confused.
Article continues below advertisement
The music producer and wedding DJ trademarked the name 30 years ago but since the Jersey Shore became such a mammoth hit his moniker has been the bane of his life, leading him to file a lawsuit with the Hartford, Connecticut district court against the reality star on Thursday morning.
"My client had a complete loss of his livelihood and business," Lis' lawyer Jose Rojas told RadarOnline.com in an exclusive interview.
Exclusive Lawsuit Documents - See Them Here
"He had a number of projects in the works," explains Rojas. "One was an Internet radio station called DJPaulie.com that was doing well, he spent up to $2 million developing it and then it just fell off the face of the earth."
"I've prided myself in being G-rated. Jersey Shore is hardly family entertainment. The show is hurting my business. It's ruining my reputation. I've even had death threats," the irate DJ told a local newspaper, the Hartford Courant.
Article continues below advertisement
Snooki Wears A Neck Brace In Italy - See The Photos
Now a global sensation, guido Pauly D, who's real name is Paul DelVecchio Jr., has the monopoly on Google and Lis complains that no-one can ever find him now when they search for DJ Paulie.
Lis directly blames the show for his loss of income because his hits dropped off as soon as the show hit the airways in 2009 and forced him to have to buy a new domain name, youshook.com.
Jersey Boys Frolic In Florence - See The Photos
"I can't compete," Lis said. "Before the show went on the air, my website was very successful and getting attention from national advertisers. Now, I've pretty much been wiped off the Google map."
Jersey Shore's Pauly D tried to trademark the name in 2003 but the United States Patent and Trademark Office denied the request because Lis already owned the rights to DJ Paulie and it was too similar, claims his lawyer Jose Rojas.
Article continues below advertisement
Jersey Shore Cast Back Home: See The Photos
"Delvecchio has misappropriated my client's name, has been told by the Feds that the name belongs to my client, but MTV is still using it," said Rojas who sent a cease and desist order to cable network MTV. "We want them to give the little guy a chance and follow the law."
"My client just wants his name back, he does want compensation but that's still to be determined," explained the attorney. "His primary motivation is to get his name back."