Exclusive
Jada Pinkett Smith - 'I Gave Up Being A Rock Star For My Family'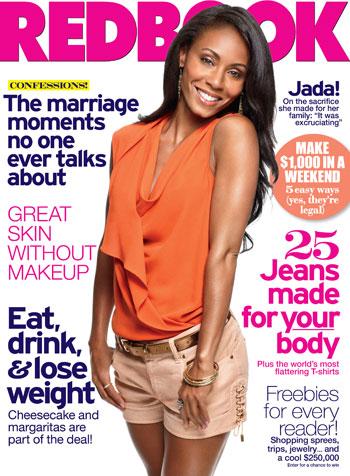 By Leah Ornstein - RadarOnline.com Style & Beauty Editor
Jada Pinkett Smith has a fabulous life with husband Will Smith and their beautiful and famous family, but the television star recently revealed that she had to make some difficult personal and career sacrifices along the way.
In the August issue of Redbook Magazine, Jada explains how she put motherhood ahead of her rock star dreams.
"I had to make choices," she tells the women's magazine. "Believe me, I would still be on the road with my band Wicked Wisdom, and making as many movies as I can a year, and doing all sort of things if I didn't have the responsibility of a family."
Article continues below advertisement
The devoted mother of two, who turned down the chance to tour with Guns & Roses when her son, Jaden, was auditioning for Pursuit Of Happiness, adds: "But I have children with their own talents and dreams, and I know I have to be standing next to them for that journey."
Hot Celeb Moms - See The Photos
And, while most Hollywood parents have fears about raising their kids in the not-quite-average town, Jada is only relieved that Jaden and daughter Willow don't have to grow up the way she and Will did "in a house with drugs in a war zone."