Exclusive
Hollywood Director Demian Lichtenstein Discovers His True Gift -- And You Can Too!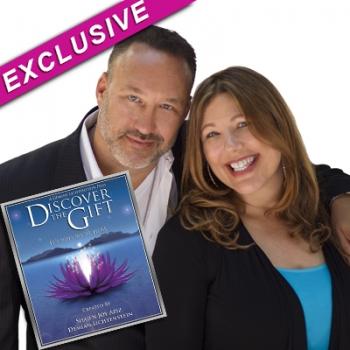 One of the must-see films of the summer doesn't feature any big stars – any explosions – or even aliens.
Instead, Discover The Gift -- a powerful new film and book released on Tuesday, June 14 -- follows the very personal journey of Hollywood director Demian Lichtenstein as he travels the world and seeks out the most noted spiritual leaders, searching for answers to life's most basic questions: Why am I here, and what is the purpose of life?
Article continues below advertisement
Demian is the first to admit he was not always on a path of enlightenment and self discovery. He lived the fast life that came with a successful Hollywood career that included directing the 2001 film 3000 Miles To Graceland, starring Kurt Russell, Kevin Costner and Courteney Cox, and directing and producing numerous music videos for such superstar artists as Sting, Eric Clapton and Queen Latifah.
But somewhere along the way, he knew something was missing.
Both the book and film trace Demian's personal journey to re-connect with his estranged sister (and co-author) Shajen Joy Aziz, and to discover what his ultimate gift to the world is, and as Demian finds his gift, he hopes you will be inspired to find yours.
RadarOnline.com: Do a lot of people confuse being religious with being spiritual? What's the difference?
Demian: Yes many do and most religion is based on a specific dogmatic point of view; spirituality is based on the divine in each of us and everything some just choose to ignore it.
Article continues below advertisement
RadarOnline.com: Are some people -- some cultures -- innately more spiritual than others?
Demian: No. All cultures and all people are spiritual.
RadarOnline.com: Can anyone become spiritual -- and at any age? What is the first step in tapping into our individual spirituality?
Demian: You already are spiritual. We come from spirit and return to it. Age is irrelevant, though they say many find God in their darkest hour
or just before the end, which in truth is just another beginning.
The first step is to be receptive and open, then tap into spirit by meditating on what you are grateful for.
RadarOnline.com: On a day-to-day basis, how do you incorporate spirituality into your life?
Demian: I meditate, I offer love and I choose.
RadarOnline.com: What's the greatest impact spirituality can have on one's life?
Demian: To be authentic, discover the gift and share it everyday.
RadarOnline.com: Of all the spiritual leaders and motivational speakers you have met, has one in particular moved you in a profound and personal way?
Article continues below advertisement
Demian: Yes, my sister Shajen. Her courage, truth and love have lit the path of my own life and my liberation and transformation.
RadarOnline.com: Do you have a favorite spiritual saying or quote?
Demian: Yes: "Life is a special gift, enjoy the journey no matter what."
RadarOnline.com: You have an interesting background -- from directing music videos for such artists as Sting, Eric Clapton and Queen Latifah, to working in television and directing feature films, including 2001's 3000 Miles To Graceland. At what point did you decide to use your gifts for something more than pure entertainment, but for also enlightenment?
Demian: When my sister asked me a simple profound question: "When is the man I know going to match the work he is doing in the world?"
RadarOnline.com: Had you been searching for something deeper in your life, or was there a single dining moment that changed you?
Demian: Many moments, many changes -- the burning of my home, the tragic death of my mother, the suicide of my girlfriend, The Landmark Forum.
RadarOnline.com: As a child, you and your sister suffered unbelievable and heartbreaking loss. On your website, you write:
Article continues below advertisement
"As children we both suffered from intense psychological abuse inflicted by certain family members as well as from being sexually abused by
people outside our family. At the ages of twelve and fourteen, we lost our mother in a horrific car accident, our home to a raging fire, and
our stepfather to drugs, alcohol and another woman. Ultimately we even lost each other to the pain, anger, and confusion that we were left to deal with on our own."
Looking back at yourself -- as an adult now -- what would you tell that little boy if you could?
Demian: You will be and do great things in life. You will experience and the highest of highs and the lowest of lows, but through it all you
will love and be loved on the deepest and most profound levels possible and you will never be alone.
RadarOnline.com: Something that also struck me was how you began the next paragraph, by saying: "We survived."
Article continues below advertisement
Those two words are very powerful, so my question is simply: How?
Demian: We survived by continuing to choose light and love over fear and despair by constantly working on and discovering each other's gifts, and sharing them with the world.
RadarOnline.com: Your new documentary and book -- which you collaborated on with your sister Shajen -- are titled "Discover The Gift." What exactly is the gift?
Demian: You are the gift. The gift is you. It's the sacred part of your own soul which you have incarnated on this planet to share.
Discover the Gift is also a motivational book of the same title being released simultaneously (Harmony; June 14, 2011) and here we share our story and take readers step-by-step through this journey of discovery which has the power to change not only individual lives and transform the world.
Through eight steps-receptivity, intention, activation, feedback, vibration, adversity and transformation, compassion, and love-working in combination, we can reach a state of unity, equilibrium, and love and become a gift to the world.
Article continues below advertisement
RadarOnline.com: You call Discover The Gift more than a movie and book, but also a movement: Can you elaborate on that?
Demian: As a community, we are seeking co-creation and collaboration to facilitate the conversation of DTG globally. The movement is about activating engagement for you to discover your gifts, and share them -- within your own family, business, community, city, state, nation and beyond.
The question we ask is, "What can you do to be an active participant in the global shift in consciousness?"
Examples are, you can host a DTG screening at your own home where you ask your friends and family what their gifts are. That is what we mean by the movement, as a simple starting point. In the end.
RadarOnline.com: In Discover The Gift, you talk about the power of unconditional love. What does unconditional love mean to you? How does it manifest itself?
Demian: Unconditional love means to me that it is NOT about me. What is the greatest service and contribution I can make, and every time my own identity or ego flairs to the surface, to remember that in the end, all that matters is love and return to my gift and being of service.
Article continues below advertisement
RadarOnline.com: As you continue in your successful career, how will your spiritual awakening impact your work in the future, and the types of projects you choose?
Demian: I will only do projects that illuminate the depth of the human spirit and captivate soul and embrace the heart, even if I'm blowing things up. (My sister always teases me about how much I enjoy blowing things up...literally.)