Heidi Klum Talks Style, Sex & Renewing Wedding Vows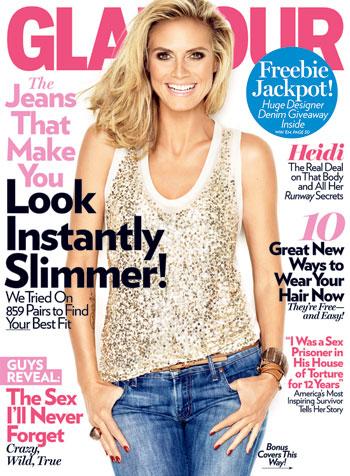 By Leah Ornstein - RadarOnline.com Style & Beauty Editor
Project Runway host and sexy supermodel Heidi Klum is featured on the August 2011 cover of Glamour Magazine, where she opens up about her hit show, sex with her husband Seal and the reason why the couple renew their wedding vows every year.
"Well, my husband and I had a great time at our wedding," Klum explained about the couple's unique tradition.
"And I said to him, "It's too bad that when we're 90, we'll only have this one time to look back on. So we should do this every year!"
Article continues below advertisement
Heidi Klum's Sexy Glamour Magazine Photoshoot – See The Photos
How do the duo keep their romance alive? The lingerie model makes magic happen with what elseŠlingerie!
"There's nothing wrong with a nice garter belt," Klum admitted.
"I'm not saying you have to put a pole up in your bedroom and start swinging off the rafters. But I love that sometimes!"
To read Klum's entire interview with Glamour magazine, click here.