Earthy Shades and Bird Feathers In The Best And Worst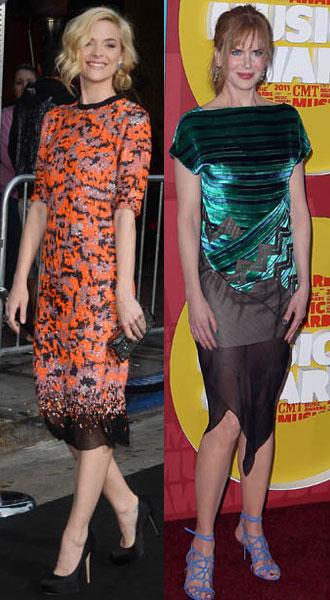 by RadarOnline.com Staff
From the CMT Music Awards in Nashville to the streets of London, Hollywood's hottest stars were dressed to impress – or confuse – all over the world on Wednesday, and RadarOnline.com has the photos of the international night of fashion.
It's officially summer but Sin City star Jaime King still looked stunning in an autumn-hued Proenza Schouler design at the Super 8 premiere in Los Angeles. The fall-inspired brown and orange dress was a conservative-shin skimming length but the floaty fabric and flattering cut gave the actress a sexy edge.
Article continues below advertisement
Sadly another earthy color-combination didn't work quite so well. Nicole Kidman made a rare fashion faux pas when she embraced her inner sycamore in a tree-inspired brown and green dress at the CMT Music Awards in Nashville. The mismatched ensemble was a hodge-podge of stripes and sheer fabric that made the 5'11" actress look like she was taking root, proving that tree pose should be kept in the yoga studio, not on the red carpet.
As always Pippa Middleton was a winner in an eyelet sundress and Charlize Theron looked like she might fly away in her pretty feathered white dress. It was a tougher night for Hollywood's young stars as both Kirsten Stewart and Shanae Grimes failed to step up to the fashion bar in dowdy thrown-together outfits, and Whitney Port put more effort into her new "sun kissed apricot" hair color than her wardrobe choice.