Exclusive
LIVE STREAM: Testimony Resumes In Casey Anthony Trial -- Watch It Here Live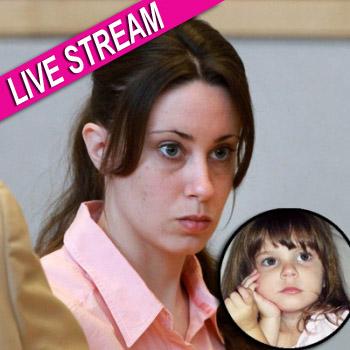 Article continues below advertisement
Friday's session comes one day after Casey's mother, Cindy Anthony, dropped a bombshell in court – testifying that SHE, and not Casey, had searched for 'chloroform' on the family computer.
Casey, 25, is being tried for the first-degree murder of her 2-and-a-half year old daughter Caylee Marie, and the prosecution has presented evidence that chloroform, how to make chloroform, neck breaking and other violent terms were searched for on the family computer. They assert that Casey searched for these terms before she murdered her daughter.
In a bombshell move though, Cindy testified under oath that she was the one who searched for chloroform on the computer in March 2008, just three months before Casey died.
"I started looking at chlorophyll," she said explaining that there was a scare about hand sanitizers and then she searched for chloroform. She then said that she looked for chloroform when it came up on her search engine.
Some people are questioning whether Cindy is simply lying to protect her daughter from the death penalty.
Article continues below advertisement
The state prosecutor questioned Cindy's testimony in depth and seemed upset that Cindy was taking responsibility for the internet searches.
Prosecutor Linda Drane Burdick aggressively asked Cindy about her startling revelation, asking her if she searched 'how to make chloroform', which was one of the search terms.
"I didn't look up how to make chloroform, I looked up chloroform," Cindy said.
Cindy said she did not search for "household weapons" or "neck breaking" the other searches the state alleges were made by Casey.
MORE ON:
Celebrity Justice
Cindy had given a deposition in 2009 where she mentioned the search for chlorophyll, but not the search for chloroform. She told the prosecutor on Thursday that her memory is better now than it was when she gave her deposition in 2009.
In another explosive claim, Cindy testified that she recognized a stain in the trunk of Casey's car as one that had been in the car since they purchased it. The prosecution is claiming that Casey murdered Caylee on June 16, 2008 and stored her body for a short period of time in the trunk of her car before disposing of it in the woods near her house.
Article continues below advertisement