Exclusive
Crystal Harris Billed As Mrs. Crystal Hefner On New Playboy Cover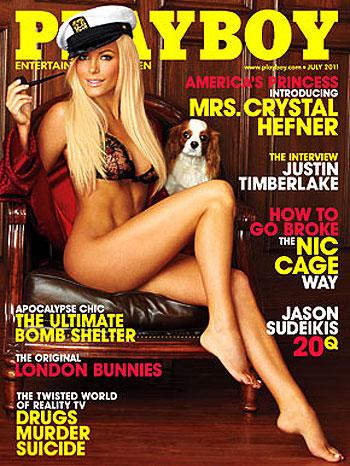 Hugh Hefner's now-ex-fiancée Crystal Harris graces the new cover of Playboy billed as "Mrs. Crystal Hefner," just days after the couple announced their bombshell break-up.
In the accompanying article, Harris, 24, says she and Hefner, 85, are "both like kids. We just laugh at the littlest things, the silliest things. He even giggles like a little kid.
"We have the best time, no matter what we're doing ... I'm happier now than I have ever been in my entire life ... the truth of the matter is we're soul mates."
Article continues below advertisement
As we previously reported, Hefner, 85, and Harris, 24, were slated to wed June 18, but according to a source of ours: "Crystal bailed and left the mansion at 11 pm Sunday night."
Harris told Ryan Seacrest on his radio show Wednesday: "I called it off because I didn't think it was the right thing for me to do," adding the the decision "was mutual between Hef and I.
"There was no fight, we sat down and we talked about it ... he understood; we both agreed that it wasn't the best idea to get married ... he was doing it for me because he thought it was what I wanted," she said. "I feel happy and at peace that everything will be ok, and I respect him more than anything.