Crystal Harris Still Using Hugh Hefner To Promote Herself After She Calls Off Wedding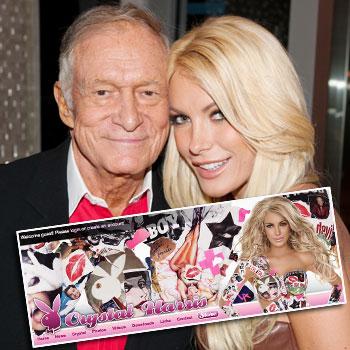 Article continues below advertisement
But on her site crystalharris.com she is still seen posing with the famous Playboy logo across her body while promoting her music career and even her mom too!
And to add insult to injury there is even an image of her cuddling up to her famous former fiancé at the Kandy Masquerade Party at the Playboy mansion last February.
Despite today's news Crystal's bio on the site still introduces her as Hefner's fiancé and still talks of her summer wedding to the famous publisher.
It reads: "Hugh Hefner's fiance, Crystal Harris, 24, grew up in San Diego, CA with two older sisters. She was born an American citizen to British parents in Lake Havasu, AZ, home of the famous London Bridge. The family moved back to England shortly after her birth but returned to America to live when she was 7 years old. While in San Diego, California Crystal attended La Jolla High School and majored in Psychology at San Diego State University. She is also a licensed real estate agent. He mom is a real estate broker and owns a real estate company in San Diego, www.symbolicrealty.com.
Article continues below advertisement
"The gorgeous blonde first met Hef at his famous Halloween party in 2008 and quickly began spending more time at the Playboy Mansion. After a few weeks of getting to know each other, Crystal moved into one of the world's most famous residences.
"Crystal is an advocate for animal rights and loves spending time with her dog Charlie, a King Charles Cavalier. She enjoys traveling, good food, comedy shows and listening to all genres of music. Crystal has signed with Organica Music Group, a subdivision of Universal, inspired by her father who sang professionally. She would love to one day produce and record some of his unpublished music. You can find Crystal either at Seth Riggs vocal studio during the week, or in the gym. The two places she spends most of her time. She loves to run, hike, swim, and stay active.
"2009 proved to be a busy year for Crystal. She made her television debut as a new star of E!'s 6th season of the hit reality show The Girls Next Door and she became a Playboy Playmate gracing the pages of the iconic magazine's December issue in a stunning pictorial. She is also featured in a recent installment of commercials for the popular video game Guitar Hero.
"In 2010, Crystal signed her record deal with Organica Music Group and is working on creating and releasing her new album. She is currently being coached by Howard Fine for acting, the legendary Seth Riggs for voice, and is signed with APA agency, represented in music & film.
Article continues below advertisement
"Crystal has been recently designing her own line of clothing, shooting for an upcoming cover and pictorial in Playboy magazine, and planning a summer wedding to icon Hugh Hefner…"
When RadarOnline.com Online contacted Harris' mom Lee Lovitt she would not comment on her daughter's split or her relationship with Jordan McGraw.
Crystal moved-out of the Playboy mansion Sunday night – she was first spotted getting cozy with McGraw during a night out at the Chateau Marmont Hotel in March.
At the time she was still sporting her diamond engagement ring given to her by Hefner – it is not known if she will return the ring.
Playboy has not yet commented on the split.
However, Hef confirmed the news via Twitter: "The wedding is off. Crystal has had a change of heart," he wrote.
RELATED STORIES:
Crystal Harris On Her New Song 'I Can't Wait To Hear It At The Club'