Crazed Fan Rushes 'Octo-Mom' At Celebrity Boxing Match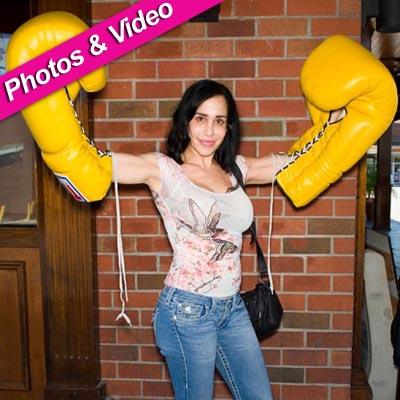 By Adam S. Levy - RadarOnline.com Staff Writer
A crazed fan jumped into the ring during Wednesday's Celebrity Boxing bout featuring Nadya "Octo-Mom" Suleman and managed to get his hands on her before security sent him on his way.
Things started out on track, with the mother-of-14, clad in oversize gloves, holding her own against radio personality Jen DJ Posner in the match at Bellmawr, New Jersey establishment Pennant East.
Article continues below advertisement
Octo-Mom's "swinging like a rusty gate!" bellowed Star magazine's Senior Executive Editor Dylan Howard, who provided hysterical guest color commentary for the event.
Things went awry, however, when the belligerent fan jumped into the ring, tossing out marriage proposals.
Octomom Attends Big Bang Female Celebrity Wrestling - See The Photos
"Will you please marry me? Will you please marry me? ... I'm a Paul Heyman guy! I'm a Paul Heyman guy!" the intruder said, making a sly reference to a controversial promo delivered by pro wrestler C.M. Punk on Monday Night Raw earlier this week.
Octo-Mom Strips Down For Sexy Shoot - See The Photos
The event's promoter, Celebrity Boxing founder Damon Feldman, then tried to talk sense into the fellow, who pushed past him and wrapped his arms around Suleman before a hulking security guard put the clamps down on the out-of-control spectator.
"And security has been force to intervene!" bellowed Howard. "Octo-Mom has been ... accosted!"
Thankfully, Suleman, 34, was not harmed in the incident.