Exclusive
Casey Anthony's Mother and Brother Both Break Down In Tears On The Stand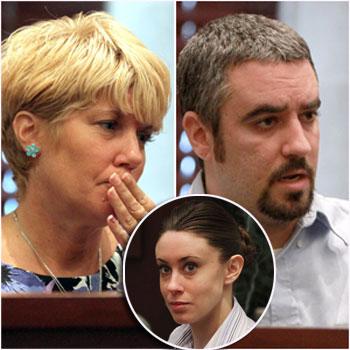 A drama-filled week at the Casey Anthony trial culminated in a bang on Friday with both her mother and brother giving moving testimony that brought them both to tears.
Cindy Anthony, Casey's mom, first took the stand and wept as she as she watched while defense attorney Jose Baez showed the jury video of little Caylee Anthony playing with her mother.
The family footage was shown in an attempt to prove how quickly two-year-old Caylee was growing before she went missing, to support the claim that a pair of shorts found next to her body would not have fit her when she went missing in June 2008.
Article continues below advertisement
Cindy became increasingly emotional as she saw photos showing the pool from various angles, where Casey's defense team maintain Caylee drowned, including several of Cindy helping her granddaughter climb the ladder on the side of the pool.
Casey, 25, is being tried for the first-degree murder of her two year old daughter Caylee Marie. The defense is claiming the toddler drowned in the family's swimming pool a month before she was reported missing and that Casey and her father, George Anthony, panicked and buried the body.
Following his mother's teary testimony, Casey's brother, Lee Anthony, took the stand with an emotional explanation of Caylee's birth and the dysfunctional attitude of his family.
Lee told the courtroom that he was oblivious that his sister was even pregnant until he bumped into her one night leaving the bathroom they both shared.
"I could see her midsection and it was showing,' said Lee. "I didn't expect it. I was like, 'What the hell is that?' and she waved me off."
Article continues below advertisement
Lee was distraught as he told the jury how he was not involved in his sister's pregnancy and not told the family secret, even when the it was "brutally" obvious.
"I was angry. I didn't want to be there," he testified.
When pushed by defense attorney Baez, he went to explain as he collapsed into tears: "I was angry at my mom and at Casey. They didn't want to include me."
Casey's brother also cast doubt on whether the stains in the trunk of the Pontiac Sunfire were from a decomposing body as he claimed there were marks there when he purchased the car.
Lee was still upset as he left in the elevator and his mother comforted him.
On Thursday, Cindy made a bombshell revelation when she testified under oath that she was the one who searched for chloroform on the computer in March 2008, just three months before Casey died, RadarOnline.com previously reported.
"I started looking at chlorophyll," she said explaining that there was a scare about hand sanitizers and then she searched for chloroform. She then said that she looked for chloroform when it came up on her search engine.
Article continues below advertisement