Exclusive
Casey Anthony Trial: Meter Reader Says He Put Stick In Caylee's Skull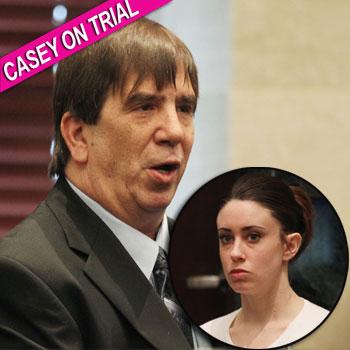 - RadarOnline.com Senior Reporter
The highly anticipated testimony of the meter reader who found little Caylee Anthony's remains occurred on Tuesday, and his shocking testimony didn't seem to help the defense team at all.In opening arguments Casey Anthony's defense attorney Jose Baez claimed that Roy Krunk moved Caylee's skeletal remains upon discovery in 2008, but he never admitted that on the stand.
Kronk testified that on August 11, 2008 he saw what he said "looked like a human skull," but was distracted by a rattlesnake. He returned the following day and called the police, but said he was harassed by the deputy who didn't search for the remains.
Article continues below advertisement
In December he returned to the same area where he saw the skull -- he then dropped the bombshell that he probed it with his meter reading stick. "I was standing behind it, so I was looking at it from behind so I very gently took my meter reader stick and put it into the right eye socket," he testified. "I picked it up and put it back down."
He went on to explain: "I lifted it up with the stick. I gently pivoted it up," and he described the area, saying the skull "wasn't stuck in the mud, it wasn't stuck in anything."
Evidence Photos Introduced Into Casey Anthony Murder
Kronk then expressed regret, saying: "I apologize for doing so. I did not know what it was. I never lifted it off the ground. That was a very horrific thing for me to find, obviously."
The police soon arrived to find and confirm that they were the remains of missing Caylee Marie Anthony.
Graphic Crime Scene Pictures Introduced Into Evidence
"Mr. Kronk is a morally bankrupt individual," Jose Baez said in his opening statement. Baez then alleged that Krunk "took Caylee's body and hid her." However, Baez never asked Krunk if he actually moved Caylee's remains and never managed to prove his allegations.