VIDEO: Jesse James: 'I Can't Worry About Sandra Anymore'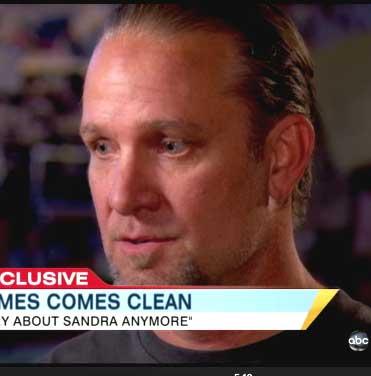 Jesse James is done worrying about his ex, Sandra Bullock.
"I can't worry about her anymore," the West Coast Choppers star told Good Morning America on Wednesday. "I think I've spent a good chunk of the last five or six years worrying only about her, and what she thinks, and what I should do ... controlling all my movements and everything else.
"I think it's time to worry about Jesse, and making sure Jesse's happy."
Article continues below advertisement
James appeared to promote his new book, American Outlaw. His marital problems with Bullock began shortly after she won the best actress Oscar for her work on The Blind Side at the 2010 Academy Awards. After a number of mistresses came public with their sordid tales, the couple split, finalizing their divorce in summer of 2010.
Bullock has moved on, following through on plans she originally made with James, to adopt a baby boy named Louis Bardo from New Orleans, where she moved after the split.
James said he's "never seen Louie since everything happened," and that Bullock's only seen his daughter Sunny a handful of times, and that they've had "no contact at all for several months."
James promptly relocated from Southern California to Austin, Texas -- Bullock's hometown, where she still owns property.
James, who announced his engagement to L.A. Ink beauty Kat Von D earlier this year, said he will be faithful to his soon-to-be bride, a feat he couldn't pull off with Bullock.
James said he's come out of last year's blitz of bad publicity a stronger man, with thicker skin.
"I didn't hide from any of it: I took it all on the chin, and guess what? I'm still standing."
More with James will air on ABC's Nightline Wednesday at 11:35/10:35c.
Watch the video on RadarOnline.com