LIVE STREAM: Testimony Continues In Casey Anthony Trial -- Watch It Here Live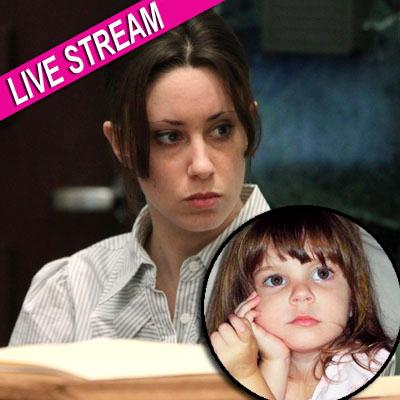 Testimony resumed Thursday in the explosive trial of Casey Anthony, the Orlando, Florida woman accused of murdering her 2-year-old daughter Caylee, and RadarOnline.com is live streaming the proceedings.
Caylee was last seen on June 16, 2008; her body was found in a wooded area six months later. Prosecutors said the girl died from three pieces of duct tape being placed over her mouth and nose, while Casey's attorney, Jose Baez, has claimed the child accidentally drowned in her grandparents' pool and Casey's father covered up the death.
Article continues below advertisement
Casey is charged with first-degree murder. If convicted, she could face the death penalty.
Jurors will hear testimony six days a week, taking only Sundays off.
The trial is expected to last between six to eight weeks.