Terry Crews Tells All -- And Shows Off His Amazing 6-Pack!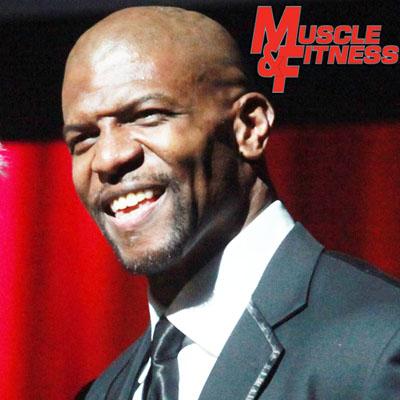 Terry Crews' godly body has been everywhere from the NFL field to the movie screen and Old Spice ads.
The 42-year-old actor opens up in the June issue of Muscle & Fitness magazine about his rags-to-riches success story, his brief period of binge eating, and how he maintains one of the most famous 6-packs in Hollywood.
"I'm not supposed to be here," said the actor of The Expendables and Terminator Salvation.
Article continues below advertisement
In the in-depth chat, Crews talks of the evolution of his career from his humble childhood in a rough neighborhood of Flint, Michigan, to his days with the NFL's Los Angeles Rams, a year of binge eating when he packed on 30 pounds from junk food and then the body transformation that turned him into a Hollywood star.
"The day my wife pinched my back fat blew me away," Crews told Muscle & Fitness. "I had read a book somewhere that said if you do something for 21 days, it will become a habit and you can change your life. So, for 21 days straight, I went to the gym. That 21-day promise was almost 13 years ago, and I've never stopped."
To read the extensive interview, pick up a copy of the June 2011 issue of Muscle & Fitness.