Supermodel Claudia Schiffer Is Curveless In Cannes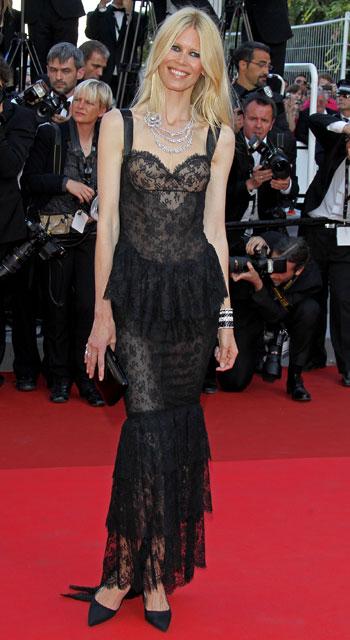 As one of the most iconic super models in the world, Claudia Schiffer has always had a fabulous figure but the mother-of-three looked shockingly thin in Cannes last weekend.
Her new look has prompted concern that she's lost too much weight since giving birth a year ago.
The 5'11" German beauty, who never succumbed to the skinny 'heroin chic' look of rivals like Kate Moss and instead boasted sexy curves that rocketed her to fame in the 1990s Guess? campaign, was a shadow of her former self at the This Must Be The Place premiere at the French Film Festival on May 21st.
Article continues below advertisement
Nutrionist Majid Ali, who has not treated the model, is concerned that Schiffer, 40, lost too much weight too quickly after having her third baby in May 2010, and estimates her weight to be as low as 107 pounds.
"The weight loss was not kind," Ali told RadarOnline.com in an exclusive interview. "You can tell it was done rapidly by the looseness of the skin around her arms and the gaunt look on her face.
"There also seems to be puff around her abs, which can happen when women diet too rapidly."
There's no doubt that the model is still gorgeous, but do you prefer her skinny or curvy? Leave your comment below!
RELATED STORIES: