Exclusive
AUDIO: Pia Toscano And Mark Ballas Just 'Very Close Friends'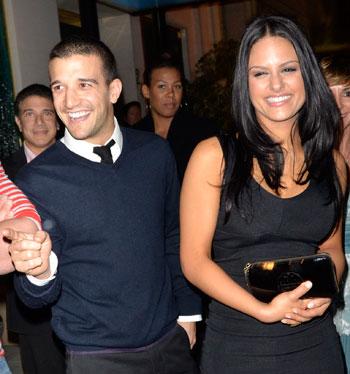 by RadarOnline.com Staff
Are they or aren't they?
Pia Toscano and Dancing With The Stars Mark Ballas have been snapped getting cozy all over town, but the ex-American Idol cutie is still denying a romance, insisting they are just "very close friends."
AUDIO: Pia Toscano Talks Mark Ballas Romance Rumors
Pia, 22, rang into the Valentine In The Morning show Thursday and fielded a barrage of probing questions like a public relations pro.
Article continues below advertisement
"We're very supportive of each other," Pia gushed about Mark. "I'm so proud of him - that he made it to the finals - and I'm sure he's very proud of me as well.
"Right now though we are both dating our careers. We're so involved in what we do. It's an important time for me to really ride this wave and work really hard, so I have to stay really focused."
And when it comes to all those late night 'I love you' Tweets that fly between the two?
"He's just really sweet – he loves a lot of people!" Pia insisted. "We're just very close friends."
Pia Toscano Mark Ballas Romance Denial