Meet Singer Matt Zarley: 'Change Begins With Me'; See His New Music Video!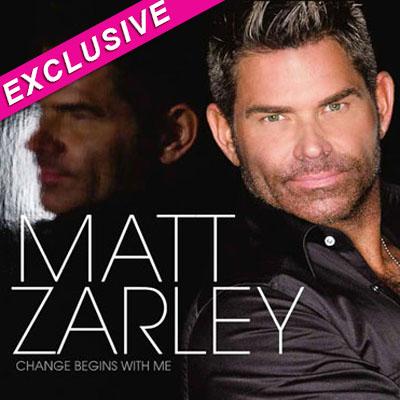 Radar News Director
Matt Zarley's first single off his upcoming CD, "Change Begins With Me", drops Tuesday, May 17th, and RadarOnline.com has an exclusive interview with the hunky heartthrob and the very first look at his brand new music video for the song.
And in a title that would make Cee Lo proud, Matt's first track off the album is entitled "WTF".
RadarOnline.com chatted with this L.A.-based artist about his incredible journey from Broadway baby to grown-up sexy singer -- and everything in between.
Article continues below advertisement
Radar: First, tell me about your new CD "Change Begins With Me." I love the title. What inspired it?
Matt: Thank you so much!!! I experienced a painful break up about 2 years ago. During the recovery process, I had an epiphany. I realized that I was probably never going to get the closure that I would've loved to have with my ex and it forced me to take a long look at myself. In that period, I came to terms with my contribution to the break-up and I got real with what I needed to work on with myself. I believe that you can never really expect people to change and sometimes it requires you to change things in your own life to find happiness. If you want your life to change, I think those changes first have to start within. That's where the title and what the title track is about.
Radar: Describe your sound.
Matt: I would classify it as "adult pop". People ask me what artist I would compare myself to. There are so many artists that have influenced me over the years: Babyface, George Michael, Whitney Houston, Kenny Loggins, Stevie Wonder, Toni Braxton... to name a few. I think there's a little bit of all of them in me. Hopefully it's my own sound ultimately. :)
Radar: Your first single off the CD is called "WTF." Tell me about it.
Article continues below advertisement
Matt: I had a very brief romantic situation with a famous actor (who shall remain nameless) last year. It was all very romantic and intense very fast and he one day just stopped communication. For no apparent reason. All I could ask myself during this was "what the f*ck??". Hands down, the strangest romantic experience I had ever had. Kinda broke my heart actually. But it made me realize that I was ready for love again. So ultimately, it was good.
Radar: Did you have any hestitation with recording a song with profanity in it, in that by doing so, it might limit its play?
Matt: Not at all. I'm excited to actually have that "parental advisory" label on my album. Kidding.
This song is so playful and non-offensive, I think. My dad is in love with the song, which is always a good sign. I think everyone can relate to it. We've all asked ourselves this question at some point. If someone is really offended, they can listen to the "clean" version. :)
Article continues below advertisement
Radar: Tell me about some of the other tracks on the album. Is there one or two in particular which have special significance to you?
Matt: This whole album is so special to me. It's all very personal. "Perfect" is a feel good tune about falling in love when you least expect it and sometimes with someone u never expected to fall for. "Apology" is definitely one of my favorites and "Change Begins With Me" is probably my favorite. All of the songs helped me heal in some way and helped me to sort out my emotions. In a way, writing this album kinda saved me, as corny as that sounds.
Radar: Do you write your own music?
Matt: I do. I wrote every song on this album. I usually come up with the melody and lyrics and my producer, Andy Zulla and I finish it together. I also wrote 2 songs with Mark Picchiotti.
Radar: What inspires you when you write?
Matt: Heartbreak is always the most accessible emotion to tap into when writing. I usually write about love...call me a hopeless romantic. I definitely am one.
Article continues below advertisement
Radar: One song not on your new CD, but one that's very close to your heart, is your remake of Pat Benatar's "We Belong", which you recorded for The Trevor Project, an organization that reaches out to gay, lesbian, and transgendered youth. Why did you pick that song in particular to record, and did you have any hesitation with re-doing a classic?
Matt: I've always loved that song and thought about covering it forever. When this opportunity came about, it seemed like an ideal fit. The song is such a great song about unity and it seemed so appropriate for the cause. I thought it was important to not copy the original but reinterpret it with a fresh perspective. The original version and Pat Benatar are so iconic. I wanted to respect the original but staying true to myself as an artist. It can be a little scary covering such a classic. Hopefully people liked it. :)
Radar: How is your approach to the song different than Benatar's?
Matt: I wanted to keep it fairly intimate (until the last chorus). As an homage to the original, we replicated the exact BV harmonies but updated the track and overall production. Vocally, I kept it very restrained. There's no reason to riff all over the place and to change up such a great melody. We kept it pretty simple and respectful to the original, I think.
Article continues below advertisement
Radar: On your website, you refer to "We Belong" by writing: "I assume that the song (when Pat Benatar recorded it) was a love song. I hear the song as an anthem of unity. I think that regardless of your orientation or viewpoint, we are all of the same earth... and we are all the same. We truly all belong TOGETHER." In that vein, do you believe that music can bring people together?
Matt: Absolutely. I hope my music speaks to everyone. When I'm writing, I rarely think in terms of any gender specifics. I think great music is relatable to everyone, regardless of any orientations.
(Editor's note: Matt is donating 100% of the profits from his version of "We Belong" to The Trevor Project).
Radar: Speaking of orientation, as an openly-gay artist, have you ever felt the road to stardom is more difficult for a gay artist than for a straight one?
Matt: In the beginning, I was preoccupied with being outed, I guess. I never really wanted to be open about it. I didn't want that to be the focus. Right before my first album came out, I was asked to be the first openly gay bachelor in People Magazine. It seemed like a sign and it immediately answered the question for everyone. So I was "out" right out of the gate. It's always been a non-issue for me. Now I'm grateful that that's the path I chose. I think it's important for everyone to be true to who they are. It's still a non-issue for me really. I'm not sure if it's more difficult. For me, it's who I am. And it's the only way I can be.
Article continues below advertisement
Radar: While several female artists have come out in recent years ( including Melissa Etheridge, k.d. lang and most recently, Chely Wright), it seems to me that not as many male artists that have come out. Of course, there are notable exceptions, including Elton John, George Michael, and Ricky Martin.
Do you share that perception, and if so, why do you think that is?
Matt: I agree. It's kinda sad really. I hope that's changing. I hope I can be one example to any young gay artists out there. It's possible to thrive musically and be true to who you are. Hopefully this'll all be moot soon.
Radar: In 2002, you had the honor as being named one of Hollywood's hottest bachelors in People's Magazine annual Bachelor issue; you were the only openly gay bachelor correct? What did that honor mean to you, both personally and professionally?
Matt: I was in a new relationship at the time; so it didn't do anything for my personal life. :)
Professionally, I was very honored. It's nice to have that distinction. Even after several years, it's cool to be able to say that I was the FIRST one. I believe Danny Roberts (from MTV's The Real World) was the other first gay bachelor in that issue. We were the trailblazers. :)
Article continues below advertisement
Radar: Are you still a bachelor -- or taken?
Matt: I'm recently committed...or taken. :-D
Radar: OK, back to your music! Tell me about some of your music influences -- both as a kid and now.
Matt: My very first musical obsession was The Captain & Tennille. He (Daryl Dragon) was such a sophisticated musician at the time. He was so ahead of his time, in terms of how used the synthesizer. I listened to some of their music recently and it does not sound 30 years old.
Vocally, Whitney Houston was probably the most influential to me. I used to study her riffs. In her prime, she was untouchable. She had that rare gift of being able to be incredibly musical and also really connect to the lyric she was singing. Go back and watch her live appearances in the early 90s. It'll blow u away. No one's achieved that same result since, I think.
Radar: Do you remember the first concert you attended? What was the experience like?
Article continues below advertisement
Matt: I think Wham! was the first concert I saw. My love for George Michael began then as well. It was a larger than life experience for me. Very inspiring.
Radar: Who's in your IPOD now?
Matt: India.Arie is ALWAYS in my iPod. She's my favorite artist of the 2000s. LOVE her. I love Jennifer Hudson's new album. I also have a bunch of Wideboys and Moto Blanco mixes on my iPod. They both remixed "WTF" so I'm sorta obsessed w/ them right now as well.
Radar: You had an unusual brush with American Idol. Tell me about that.
Matt: I submitted a song I recorded called "Here I Am" to the Idol Songwriter Competition. It was chosen by the producers as one of the Top 20. The audience then votes for these. This was the year of Cook & Archuleta. There was a rumor circulating around that if David Archuleta had won, the song would've maybe won as well. He didn't and I didn't. But it was the title track of my last cd.
Article continues below advertisement
Radar: Speaking of American Idol, what do you think about shows like Idol or The X-Factor as a platform for aspiring singers? Any concern that it thrusts young people too quickly into the national limelight before their talent is honed and they are fully equipped to handle the pressure and sudden fame?
Matt: Yes, kinda. I think it's great that these people can get the exposure they probably wouldn't be able to. But the main issue I have is that alot of them lack the true artistry that I'm attracted to. There's a bit of disconnect. They're under such great pressure every week, I don't think they can digest alot of what they're singing about. It all seems somewhat mechanical to me. I wanna FEEL something when someone sings. That's what's missing for me most of the time I watch these singing competition shows.
Radar: You yourself started young. I understand you appeared in a TV commercial alongside Tony The Tiger when you were 12. That's GRRRREEAATT!! (Sorry, couldn't resist!) What's your memory of that?
Matt: Very vague. All I can remember is that my call time was very early (I think like 5am). Bless my mom. She was stuck w/ me all day shooting in the very hot July heat at the LA Arboretum. But it was alot of fun and exciting for a young kid to see themselves on the tube after school!
Article continues below advertisement
Radar: A few years later, you made your Broadway debut while still a teen in A Chorus Line. What was that experience like, living in New York so young and working on Broadway?
Matt: Amazing. I can still remember THAT debut. It was surreal. Doing that iconic show on THAT stage in THAT theatre was such an honor. Broadway was such a highlight for me. I felt like I was living my dream. It's an experience I will always hold so close to me.
Radar: You also have performed in CATS, Chicago, Kiss Of The Spiderwoman, and played the title roles in both Joseph And The Amazing Technicolor Dreamcoat and The Who's Tommy...all Broadway. Any favorite roles or moments on stage that really stand out in your mind?
Matt: Hands down, TOMMY was my favorite. It was an amazing experience. Pete Townsend happened to be at my first performance. The show was so good and had such an integrity. I think largely because the creators were so involved throughout the entire run. Many of that cast have gone on to huge success: Michael Cerveris, Alice Ripley, Norm Lewis, Clarke Thorell, Michael McElroy, and on and on...
Article continues below advertisement
Radar: With all you've accomplished, what's next for you?
Matt: Getting this single, video and remixes out first. Then the album later this summer.
I'm really focusing on my songwriting these days. I would love to travel full circle and write a musical. That would be my next dream to fulfill. :)
radar_embed service=5min.com src=" http://pshared.5min.com/Scripts/PlayerSeed.js?sid=1126&width=300&height=275&playList=517712869&sequential=1&shuffle=0"