Katy Perry Concert Rider: 'Absolutely No Carnations!'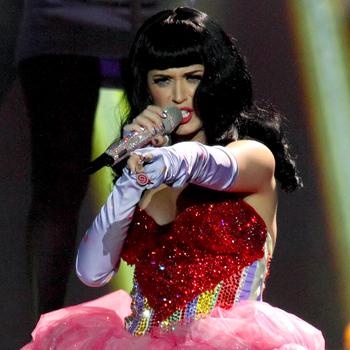 by Radar Staff
Katy Perry is heading out on her 2011 World Tour, and her concert rider, obtained by The Smoking Gun is a thing to behold.
Katy's tour doesn't travel small. In cities where Mrs. Russell Brand is staying overnight, she's to be booked into the presidential suite of a FIVE star hotel. She also needs five junior suites and 45 single rooms.
Her dressing room at the venue needs to be able to accommodate six to 10 visitors. It is to be decorated in pink and cream, and have lots of fresh flowers. But -- and this is in all capital letters -- "ABSOLUTELY NO CARNATIONS."
Article continues below advertisement
Katy's not much of a drinker on the road. The only alcohol requested is two bottles of Santa Margarita Pinot Grigio. She also wants organic fruits and vegetables on hand, "properly sanitized," of course.
Pity her poor chauffeur though. There's a whole page devoted to what he can and can't do, including not starting a conversation with Katy or staring at her through the rear view mirror.
What's caused the most commotion about the rider, with people in the music industry who have seen it, is that Katy's peeps reserve the right to have the venue hold back some of the tickets for them to move through "resellers."