Jose Canseco: ' I'd Marry Lady Gaga In A Second'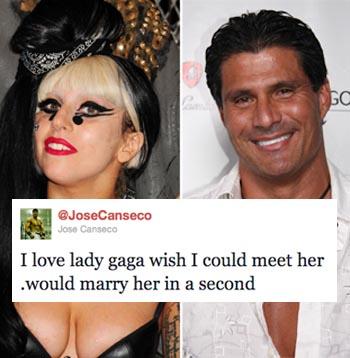 Jose Canseco isn't showing his poker face when it comes to his feelings for Lady Gaga.
"I wish I could meet her," the former Oakland Athletic tweeted this week. "I would marry her in a second."
The 46-year-old -- baseball's first-ever player to total 40 home runs and 40 stolen babes in a single season (1988) -- followed that up with, "Lady gaga where r u did u get my marriage proposal I am at cocoa casino in yuma Arizona."
Article continues below advertisement
The LoveGame singer might be playing love games with the slugger, as she has yet to respond.
The Celebrity Apprentice star told KYMA-TV in Yuma he's "the biggest Lady Gaga fan ever."
"I just think she tells it how it is, she says she's born that way, you have to accept it, and that's all there is to it," the former Bash Brother said. "It's very simple."
Canseco's whistle-blowing on Major League Baseball's widespread steroid problem continues to have a prolific impact on the game he played, years after the fact, ultimately ushering in a era of pitching and defense after years of juiced-up offensive totals.