PHOTOS: Snooki Crashes Into Police Car In Italy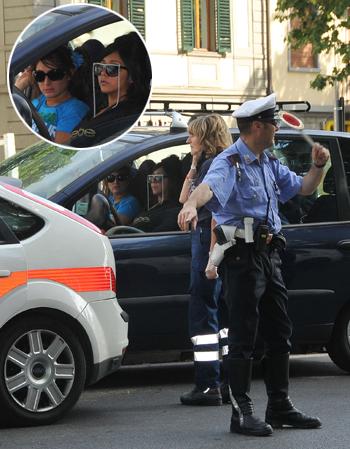 by Radar Staff
Reality got a little too real Monday for Jersey Shore's Nicole "Snooki" Polizzi.
She crashed into a police car in Florence, Italy, sending two officers to the hospital!
The MTV star was driving with Deena Cortese in the passenger seat and a member of the show's production team in the back, when she struck the official vehicle, wedging her car between the police car and a wall.
And here's the kicker -- the car she hit was their official police escort!
Article continues below advertisement
The two officers in the car The Snookster hit were put on stretchers with their necks stabilized, and taken to Coreggi hospital, to be treated for bruises and possible whiplash
Authorities were quick to say that alcohol was not involved, and RadarOnline.com has confirmed that the girls were not arrested as has been erroneously reported elsewhere.
Snooki and Deena were taken to a nearby police station to fill out an accident report.