Hollywood Goes Gaga Over The Fabulous Beekman Boys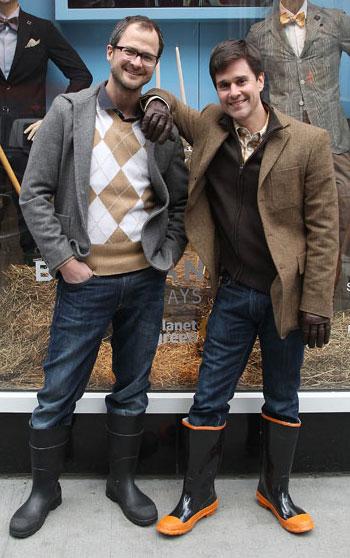 by RadarOnline.com Staff
What started as a city slicker-turned-country bumpkin reality show has spawned into a celebrity-crazed phenomenon!
The Fabulous Beekman Boys has amassed a famous fan base, including Jill Zarin, Alec Balwin, Tori Spelling and even bigscreen babe/cookbook cutie Gwyneth Paltrow.
Why is Hollywood falling for Josh Kilmer-Purcell and Brent Ridge? Not only do the entertaining duo provide 30 minutes of entertainment every Tuesday night on Planet Green network, but they also have a "seasonal friendly" line of handmade, chemical-free artisanal products, which are all produced on their farm.
Article continues below advertisement
"I love watching The Fabulous Beekman Boys," Jill Zarin, who visited their New York farm on Sunday, exclusively told Star Magazine. "It is one of my favorite shows."
When Gwyneth Paltrow hosted an exclusive NYC dinner party to celebrate the publication of her book, the Boys made the guest list alongside Martha Stewart and Cameron Diaz.
Tori Spelling is such a huge fan of the Boys, that she hosted a book signing event for them in Los Angeles, fully equipped with goats!