AUDIO: Frank Sorrentino Not Sorry For Videos Ripping His Son, The Situation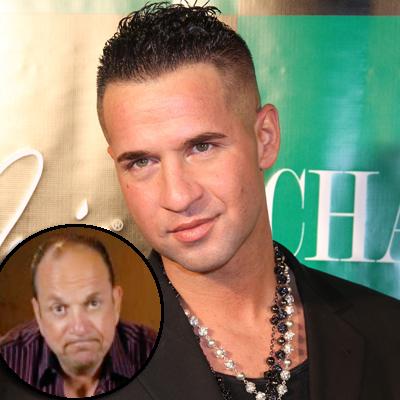 It's Michael Lohan meets Paulie Walnuts.
Frank Sorrentino, the estranged father of Jersey Shore star Mike The Situation Sorrentino, is quickly establishing himself as Hollywood's newest rogue stage parent, with a series of foul-mouthed rants aimed at his rich and famous kid.
Papa Sorrentino explained a series of videos he made ripping the MTV hunk, in an interview with KiSS 92.5 Toronto on the Roz & Mocha Show on Thursday.
Article continues below advertisement
"I'm not trying to bring him down or anything like that, but he's put me down so much, for such a long time," Frank said, adding the last time he saw his son was in November, calling it "an awkward situation."
Listen to the audio on RadarOnline.com
He said he doesn't regret doing the videos and that he has "nothing to say sorry about" because he told the truth in the clips.
The beef between father and son started, according to Frank, when he asked The Situation for money to help pay for his medical insurance. He claims his famous son told him to go on welfare instead.
Frank Sorrentino - The Situation's Dad by KiSS925
In a series of YouTube videos posted last week, the father of three rips on not only his his son, but the rest of the Jersey Shore cast as well.
"He created more situations for me in my life, than the name he gave himself put me in more confrontations than any boy I ever had," Frank said. "Mike says 'I'm all for family, I'm all for this' -- bulls--t!
Article continues below advertisement
"You're all for yourself. You're full of s--t! I put my f---ing b---s on the line for you a hundred f---ing times when you couldn't."
On Snooki: "If I was that girl's father I'd run for cover ... she's a 4-foot-11 piece of s--t."
On Deena Cortese: "Deena is a first-class Italian pig ... any girl who shows their genitalia the first time they're on f---ing TV is a pig."
RELATED STORIES:
EXCLUSIVE VIDEO INTERVIEW: Jersey Shore's 'J-WOWW' In Vicodin Suicide Drama