Exclusive
Frank "The Confrontation" Sorrentino Was A Bad Tenant Claims Former Landlord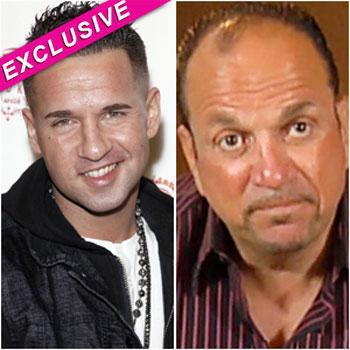 Frank "The Confrontation" Sorrentino got himself into a real life situation after he tried to 'run-out' on his landlord in the middle of the night!
The estranged father of Jersey Shore star Mike The Situation Sorrentino went on a series of foul mouthed YouTube rants this week aimed squarely at his famous son.
But a former landlord of Sorrentino Senior has blasted him for being a terrible tenant when he rented a town home in Boynton Beach, Florida.
Article continues below advertisement
The ex-landlord told RadarOnline.com: "The guy is a total scum***!
"He got about three months in arrears on his rent in 2009 and then suddenly gave us one day's notice that he was leaving the three bedroom two bathroom property that he was renting at the time.
"Then we got a call from somebody in the gated community telling us that he was packing up a removal truck in the middle of the night so we raced down to confront him.
"We found him loading up his possessions and we demanded that he pay us the rent he owed – he cut us two checks for $3500 but when we tried to cash them the following day the bank told us that the account was closed.
"I contacted Palm Beach Police but they said it was a civil matter and I finally managed to track him down in New Jersey.
"When I told him about the checks he got all foul mouthed and said 'I don't care just sue me.'
Article continues below advertisement
"Eventually we decided to just cut our losses and just move on but he is not the type person anybody can trust.
"He is probably trying to make a buck of his own son now because he is famous but he is just a total deadbeat."
The relationship between father and son went south after he asked the Jersey Shore star to pay his medical insurance.
PHOTO: Invite To Vinny's Private Reception At Greenhouse
In his YouTube rants Sorrentino Senior ripped into his son and his cast mates too.
He said: "He created more situations for me in my life, than the name he gave himself put me in more confrontations than any boy I ever had," Frank said. "Mike says 'I'm all for family, I'm all for this' -- bulls--t!
"You're all for yourself. You're full of s--t! I put my f---ing b---s on the line for you a hundred f---ing times when you couldn't."
Ironically, RadarOnline.com Online.com has discovered that Sorrentino has moved back to the same gated community in Boynton Beach that he originally bolted from and now lives just a few houses away from his previous home.
Article continues below advertisement