Fitness Guru Bob Harper Sounds Off On The Biggest Loser, Hollywood Hard Bodies & Weight Loss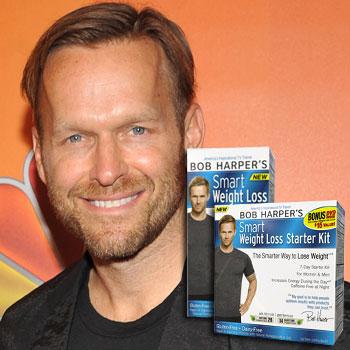 Bob Harper, The Biggest Loser trainer with the biggest heart, is saving America's obese one contestant at a time. The one-time celebrity trainer has become a hero to the show's contestants who are battling to get their lives back on track while losing hundreds of pounds.
Star magazine sat down with the 45-year-old hunky trainer and overall wellness expert in his Los Angeles home to talk about his secrets to a healthy life.
Article continues below advertisement
Star: How long have you been training?
Bob: "I've been training now for over 20 years now. I started in Tennessee and realized this was the profession I really wanted to pursue. I thought California would be the perfect place to pursue it so I packed up my bags and moved to Los Angeles."
Star: Where are you from?
Bob: "I'm from Tennessee but I have now lived in LA for longer than I lived in Tennessee so I feel like I'm a local. This is my home."
Star: How did you get started?
Bob: "I got out of high school and I didn't have the money to go to college. I was trying to figure out what I was going to do with my life while living next to a gym in Nashville. I became a gym rat, the nstudied to become a group fitness teacher and then a trainer. That's what got the ball rolling so when I got out to California I hit the ground running.
"I got a job at a fitness place right away and then I got my very first celebrity client, Jennifer Jason Leigh."
Article continues below advertisement
Star: Did you enjoy training actresses and celebrities in Hollywood?
Bob: "I did. It's very different than what I do now. It takes a really strong woman to be in the entertainment business because everyone is in your ear telling you that you need to lose weight. It's tough on them."
Star: Were you always fit?
Bob: "I was never an overweight kid. I was the thin kid who really didn't get into sports that much. It was only when I got out of school that I really started appreciating athletics. That's my only regret, that I didn't get into working out and fitness until later."
Star: Have you ever been into sports?
Bob: "Not too much. I played a little tennis, but that's about it."
Star: What's your favorite way to stay in shape? Yoga? Weights? Cardio-running?
Bob: "I have gotten into a lot of track and field stuff. I love to run. I have also gotten into Kettle bell workouts because it has that old school mentality.
"I really love functional training. I love to put people through crazy balance workouts. It's incredibly challenging.
Article continues below advertisement
"I've also gotten into old school weight training, which I never was a big fan of when I was younger. But now I love it. I am constantly mixingv up my workouts. I mix in yoga, which I have done for a long time, and of course I love cardio as well."
Star: Did you have any other jobs before becoming a trainer?
Bob: "I worked at a bank, which was hysterical--just not for me. I remember going there everyday and sitting in this florescent light work environment from 9-5. I spent everyday thinking to myself-how am I going to get out of this? It's no way to live."
Star: What is the first thing you do when you start training someone?
Bob: "When I am working with someone who is overweight, the first thing I do is take a look at their nutrition, and the second, is their workout. Usually I have to get them doing a lot of cardio."
Star: Do you have a training philosophy or strategy?
Bob: "I've always talked about my inside-out philosophy. What I mean by that is that I try to get people to focus on being the best that you can possibly be and not worry about other things and other people that are out there. When you do that, you can have longevity in your transformation. Look at what you can do for yourself and then go for your own personal best. That, for me, is what it's all about.
Article continues below advertisement
"That, partnered with diet and exercise, is the key. It's incredibly important to have those two pillars in your daily routine. It's really the key."
Star: Do you work out every day?
Bob: "Yes I do! I might take one day off once in a while but I pretty much go at it 7 days a week. I really enjoy it as it's stress relief for me as well. My job, like other people's, can be really stressful. That workout time should be time for you to take care of yourself. When I can take care of myself then I am much more pleasant to be around."
Star: Do you have days when you don't want to do it?
Bob: "Of course! There are days when I just want to stay in bed. I say v'ugh...I don't want to do this', but I know how good I will feel once I'm finished. I'm definitely not Superman. There are times when I get in a rut and get down and think to myself, 'am I really going to do this again?' That's when I usually change my workout and mix it up. I just started doing boxing again and it's really been challenging."
Article continues below advertisement
Star: You sound like you mix up your workouts a lot.
Bob: "I think mixing up your workouts and routines is incredibly important for your mind and your body. People always tell me they have reached a plateau. Well that just means that your body is bored and you
need to change your workout and do something different. If you do that you will break your plateau."
Star: Did getting on The Biggest Loser change your life?
Bob: "Getting The Biggest Loser completely changed my life! Before that I was the go-to celebrity fitness trainer. I had good clientele and was doing really well for myself. Still, it wasn't until I did The Biggest Loser that I understood why I had really been drawn to this business. We all have a calling in our life and all these years of being in the business led me to being on The Biggest Loser.
Article continues below advertisement
"Now it's much more important to me to be able to reach out to that husband and wife who need to lose hundreds of pounds as opposed to that skinny actress that I had to get into a size 2 for a film role.
"I'm working with people like this one guy who wanted to live long enough to watch his daughter walk down the aisle. Or a woman that has been eating herself into a complete depression."
Star: Do you still enjoy being on the show?
Bob: "I absolutely love it. I have been on since season one and am about to go into season 12. I definitely plan on continuing. If I ever get to a point where I feel like I've done it all then I would move on but I'm not there yet. I still have a lot to learn and there are still a lot of people I want to be able to help. Some of these contestants have really gotten to me. I've balled my eyes out before.
Article continues below advertisement
"Being able to work with the contestants is amazing but I also look through those contestants to the audience. I know the audience is able to get so much out of the show, which I love."
Star: So you are staying, but Jillian is leaving. How do you feel about that?
Bob: "I'm sick about her leaving! We have been through the trenches together since season one and I'll miss her. She's one of my very best friends and I love her. We fight like husbands and wives sometimes but we will always be great friends. We just did a superbike motorcycle school together which was great. She actually taught me how to ride a motorcycle."
MORE ON:
The Biggest Loser
Star: Would you ever work together on projects outside of the show?
Bob: "For Jillian and I to do a fitness DVD together would be unbelievable. I love working with her so any chance I'd get to do it, I
would jump at."
Star: Any contestants that have really touched you?
Bob: "Oh yeah. Erik Chopin, the winner of season three is someone I will be friends with forever. The father-daughter combo of O'neal and Sunshine from season 9 were also incredibly special. They weren't trying to win a show-they were just trying to have a better quality of life. He couldn't tie his shoes before being on the show! Hannah and Olivia from the current season are also very special. Once again, they couldn't care less about winning a show, they were trying to win their life back.
Article continues below advertisement
"I still see some of them in the spin class I teach at Crunch in LA. It's great!"
Star: You still teach spin classes?
Bob: "I do and I love it. I never want to forget where I came from!"
Star: So, you are a vegan?
Bob: "Yeah. I have been for over four years now, and I feel really good. I tell people all the time that you don't have to be a vegetarian or vegan to feel good, but I want people to rely more on plant-based foods. People are eating so much processed stuff now they are avoiding all their fruits and vegetables and whole grains. Having a diet rich in those foods is going to be so beneficial to you. For animal-eaters it's important that you get grass-fed meats and all organic produce. If you make sure you are eating in that way, you may pay more now-but you will save a lot on medical costs later. I'd rather you buy this food now that costs a little more, to help you prevent all those health care costs down the line. It's like putting money in your savings account."
Star: Why did you chose to become a vegetarian and then a vegan?
Bob: "My cholesterol was a little on the high side and then I read a couple books called Skinny Bitch and The China Study, which I really got a lot out of. It is something for me that just really works. I started for health reasons but have become much more aware of the inhumane treatment of animals. I work with a group called Farm Sanctuary, and try to shed a little light on animal mistreatment. I want people to live in a kinder and gentler world. If you put that positive energy out there it will come back to you."
Article continues below advertisement
Star: Do you miss meat?
Bob: "Yeah definitely. Rachel Ray recently asked me if I ever slip up and to be honest yeah I do. Look, nobody is perfect and I definitely have cheated but I don't beat myself up for it. I don't want life to be so regimented. If I want some cheese or something I definitely let myself."
Star: Do you have a cheat day?
Bob: "I don't necessarily have a cheat day, but I do allow myself to indulge once in a while without beating myself up. The other day I broke down and had some pizza-and it was so good!
"My diet is so clean, eating only organic foods, that are primarily plant based-if I want to have a treat I let myself have it. I have dark chocolate almost every day! My dessert at night is a whole bunch of blueberries, raspberries, and strawberries with some dark chocolate chips on top. I love it and I never get tired of it.
"I definitely promote a higher calorie day especially for people who are really following a strict diet. I think it's good for the body as a way to just switch things up and change gears."
Article continues below advertisement
Star: Do you count calories?
Bob: "I don't count calories but I am definitely aware of them. In my business I need to know how many calories are in everything. I learned this from Jillian who lies in bed every night and counts how many calories she had that day. I don't count them but I do lay there in bed at night and go over everything I ate."
Star: Do you believe in dieting?
Bob: "I believe in portion control. That to me is what it's all about. I think people are eating way too much food in America. And to make matters worse it's not even food anymore, it's food-like food. That's the biggest problem when it comes to our health care and our issues with Type II Diabetes and heart disease. It all stems from people eating too much and too much of the wrong stuff.
"My dinner at night is a salad that looks like it could feed a family of five! But you're never going to get fat eating salad! You do have to be careful of the salad dressing you put on but generally you are pretty safe eating salad."
Star: Do you have a biggest weakness?
Bob: "Dark chocolate and peanut butter! A Reese's Peanut Butter Cup is the best thing in the entire world! Paul Newman makes an organic Chocolate and Peanut butter cup that I love!"
Article continues below advertisement
Star: You have a new weight loss product coming out?
Bob: "Yeah. I'm coming out with a new supplement line/weight loss product, called Bob Harper's Smart Weight Loss, which I am really excited about. It falls in line with everything I have said from the very beginning. You have to watch what you eat and you have to exercise and now with my supplement line it's going to give you that extra boost that you need. I take supplements all the time, it's a part of my routine. I see the people that I work with that need that extra boost which is why I'm so excited to start this program."
Star: How is it different than other products on the market?
Bob: "It's all natural with pomegranates, goji berries, vegan/vegetarian friendly; its gluten free, its dairy free. I never thought this product line would come to fruition because of everything I needed it to be. I had a laundry list of requirements! But my company came back to me and said ok we got it! I'm very proud of it!"
Star: What else have you got going on right now?
Article continues below advertisement
Bob: "I'm writing my second book right now, I have my DVD's including a new one that just came out and of course The Biggest Loser."
Star: Do you own any animals?
Bob: "Yes! Karl my little rescue dog. He's a mix of a few different breeds. I've had him for a year."
Star: Is Karl your only animal?
Bob: "Yes. I had a fish named Valentino, but he died."
Star: How many tattoos do you have?
Bob: "I think I have 6 or 7. I don't remember! None of them have any special meaning, I just love the artistic value of them. I just found this tattoo artist in Queens, NY that I love. He's this big badass guy
who is all tatted out."
Star: Who in Hollywood has a good body?
Bob: "I just saw an add for a new movie with Ryan Gosling and wow I was shocked--he has the best body out there. It's insane!
"On the women's side I love Jennifer Aniston's body because I like to see women 40 and over who are still looking that good! It's easiest to do it when you are in your 20's!
"I also love Jillian's body!"
Star: What are 3 tips you could tell people to help them lose weight?
Article continues below advertisement
Bob: 1. You have to eat breakfast! Breakfast is the most important meal of the day.
"2. Hydrate! Because a lot of times when people are felling hunger pains they are just dehydrated.
"3. Fiber! People aren't eating enough Fiber. If you get more fiber in your diet you will feel fuller longer. And that's what people are looking for. No one wants to walk around feeling hungry."
Star: Any fitness role models?
Bob: "Jack LaLanne! That man was in the business forever and when he died there was definitely a void. He was a pioneer. I like people who have staying power and aren't just a flash in the pan like Susan Powter. I want to be like Jack LaLanne doing pushups and training people when I'm 90 years old."
You can read the entire interview in the latest issue of Star magazine.