Exclusive
EXCLUSIVE INTERVIEW: Meet 'Alexis Hudson' -- Bag Ladies To The Stars!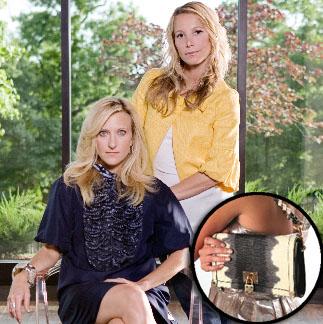 When it comes to success, Rachelle Copeland and Emily Ironi have it in the bag -- literally.
The two Minnesota women, who spent years learning the business of accessory design and sales, pooled their talents in 2005 to create the beautiful Alexis Hudson Handbag Collection, and in just a few short years, some of Hollywood biggest stars -- from Paris Hilton to Eva Longoria to Modern Family's Julie Bowen -- have already taken notice.
Article continues below advertisement
Rachelle and Emily describe their handbags as the "perfect marriage of function and form" with the goal of creating the "perfect bag" and providing "absolute therapy for handbag addicts."
On Friday, May 13 & Saturday, May 14, Rachelle will appear live on HSN (Home Shopping Network) to show off her beautiful bags, so RadarOnline.com decided to chat with this designing woman to find out the inspiration behind her collection and her secrets for finding the perfect bag.
Radar: Since your name is Rachelle and your parner's name is Emily, who's "Alexis Hudson?" How did you come up with the name for your company?
Rachelle: Alexis is my 10-year-old daughter and Hudson is my business partner's dog. (A German Wirehaired Pointer) The company was named after our 2 babies.
Radar: Tell me about some of your celeb clients, and what types of bags they have purchased.
Rachelle: We have a wide range of followers from established fashion icons to Hollywood's newest and hottest actresses, including Paris Hilton, Eva Longoria, Cindy Crawford, Elizabeth Mitchel, Katherine Heigl and many others.
Article continues below advertisement
(Rachelle goes on to name other celebs and the type of handbags they have purchased:)
Ali Larter - Ciara Mica Leopard
Amy Smart - Ciara black
Julie Bowen - Chelsea in gold and Olivia
Nikki Reed - Chelsea in gold and brooklyn in black
Chelsea Handler - Chelsea in gold
Whitney Cummings - Ciara in Putty Nicole Sullivan - Meryl in black
Radar: Do you ever make custom-made bags for any of your star clients?
Rachelle: We have not had that request. We have had celebrities request specific bags off of our line for premiers, events, etc.
Radar: What are the trends in bags for summer and fall?
Rachelle: There are 2 big trends going on for Summer: 1) the chic bohemian look with braiding, tassels and soft slouchy shapes 2) Ladylike bags with shorter handles and chains. For Fall: 1) military - with braiding and big rivets 2) chic gypsy look with coins and mixed hardware.
Article continues below advertisement
Radar: What are the hot colors?
Rachelle: Spring/Summer: Neutrals, Navy and Gold. Tribal prints and colors are important. Fall: The biggest color for fall is hunter green. Navy, black and gray neutrals (my Chai color) are strong as well.
Radar: What is the price range of your bags?
Rachelle: Our Alexis Hudson Collection is $150-$925 and Sport is $140-$225. Our AH by Alexis Hudson Collection that is launching with HSN in May will be $119-$300.
Radar: What's your most unusual bag?
Rachelle: I think that all of our bags are unique because of the design, hardware and leather. I design all my bags to be very unique, yet timeless. Something that any woman is excited to wear year after year.
Radar: If a woman only has enough money for one good bag, what type of bag would you recommend to go from day-to-night?
Rachelle: The Ciara. It is an Oversized Clutch that fits everything you need during the day and looks chic at night. The Clutch is not just for night anymore.
Article continues below advertisement
Radar: What are the biggest bag faux pas and misconceptions -- for instance, does a woman's bag have to match her shoes?
Rachelle: Absolutely not. Anything goes. I believe in a woman dressing to fit her personality and be creative.
Radar: What does a woman's bag say about her personality?
Rachelle: It says a lot. Wearing a clutch during the day says I'm fashion forward. A big Boho, such as our Chelsea, says I'm embracing my inner Boho spirit. A ladylike bag such as our Rita says "I'm sophisticated." Wearing an Alexis Hudson bag says "I'm fashionable, yet my bag has to fit my busy lifestyle. It says "I need to not only look good, my bag has to be functional too."
Radar: Finally, what's in your bag right now?
Rachelle: My wallet, cosmetic bag, iPhone, Gummy Bears, gum, hand sanitizer, life shield spray to keep me healthy while traveling, sketch pad and pencil.
Check out Rachelle when she appears on HSN on Friday, May 13th at 7am & 6pm ET and Saturday, May 14th at 3am ET to showcase some of her most chic and afforable bags.