Accused Murderer Casey Anthony Laughs During Jury Selection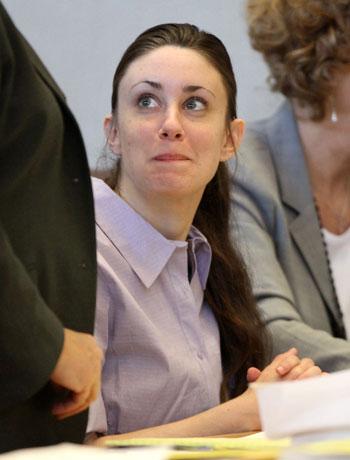 RadarOnline.com Staff Reporter
Casey Anthony found jury selection something to laugh about in a Florida courtroom Tuesday.
Anthony, 25, cried on Monday when a Florida judge read her first degree murder charge to the jury pool, but on Tuesday she was smiling while a potential juror was speaking.
The man told the court he wasn't sure if he could serve on the jury because he couldn't leave his two cats because last time his son took care of them it "didn't work too good."
Article continues below advertisement
His description of his son and the cats brought the smile to Anthony's face. She was also seen smirking, smiling and laughing with her attorney.
The prosecution is seeking the death penalty against Casey Anthony for the murder of her 2-year-old daughter Caylee Marie Anthony.
Fifty potential jurors were dismissed by Judge Belvin Perry on Tuesday after they confirmed that they had been speaking in depth about the case. The judge has warned them that they will be sequestered during the six to eight week trial and admonished potential jurors not to use Facebook or Twitter to discuss the case.