The Man Behind The Music -- An Inside Look At Scotty McCreery's Mentor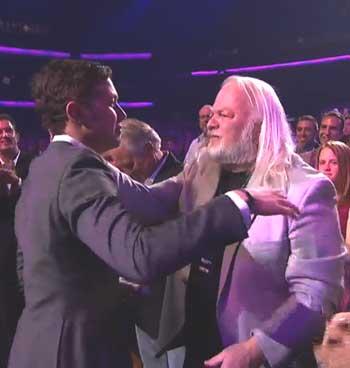 Radar Staff Reporter
It was the emotional moment when Scotty McCreery started sobbing as he hugged his mentor Bud Moffett moments after he was crowned the new American Idol.
The long-haired Moffett is the man behind the teenager's amazing rise to superstardom.
The New York born musician, 62, was sitting alongside McCreery's parents, Michael and Judy, when his protege became Idol's youngest male winner after an amazing 122 million votes were cast.
Article continues below advertisement
Moffett met Scotty in 2009 when he was a judge for a local talent show, Clayton Idol, in North Carolina which was run by his wife Kim Moffett.
VIDEO: Watch Scotty McCreery Compete in Clayton Idol
McCreery would go on to win the local show and Moffett immediately took him under his wing; the pair started singing together at a local Italian restaurant.
Speaking about their first duet together, Moffett said: "He was shy, but he got up and sang two songs. The crowd went crazy for him. It was a good boost for his confidence."
Since then the two have been inseparable with Moffett helping him with his guitar playing, singing and song selection throughout the competition.
An insider told RadarOnline.com: "Bud was an absolute rock for Scotty. He knows that he could not have won Idol without him.
"When he went over to give him a hug after he won the competition, he was understandably very emotional.
"These two went from a local competition to winning the biggest talent show in the world in American Idol. Hollywood could not come-up with a better script.
Article continues below advertisement
"Scotty is a really grounded kid and with Bud by his side, he can achieve anything that he wants."
Also sitting in the front row Wednesday night was Scotty's guitar teacher Gary Epperson; his Garner High School music teacher Meredith Covington was also invited to the finale and was presented with a new car by host Ryan Seacrest.
radar_embed service=5min.com src=" http://pshared.5min.com/Scripts/PlayerSeed.js?sid=1126&width=665&height=360&playList=517708282&sequential=1&shuffle=0"