PHOTOS: Move Over Arnold, Other Celebs Involved In Baby Scandals!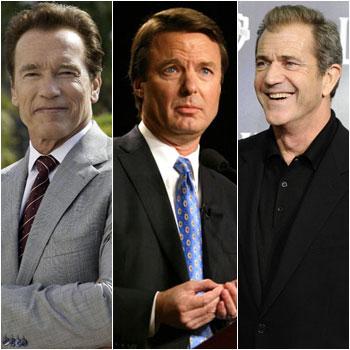 by RadarOnline.com Staff
Arnold Schwarzenegger may be the latest celebrity involved in a baby scandal, but he's certainly not the first.
The Governator joins a special subset of celebrity bad boys: Men who've fathered children outside of their marriages.
Besides the Terminator star, here's a few other proud papas of the sort:
* It took years, but former North Carolina Senator/ failed Presidential candidate John Edwards eventually admitted he'd fathered a baby girl out-of-wedlock with his former mistress, Rielle Hunter. He and his late wife Elizabeth were separated shortly after he made the admission.
Article continues below advertisement
* Mercurial Mad Max star Mel Gibson fathered a baby girl named Lucia with Russian piano player Oksana Grigorieva, while he was wed to his longtime wife, Robyn.
* Talk about Destiny's Child: Mathew Knowles, Beyonce's father, and his wife Tina separated after it was discovered he fathered a boy named Nixon with an actress.
* Add another footnote to Michael Lohan's never-ending hit parade: the brash screen dad reportedly had a daughter, now in her teens, out of wedlock during his marriage to Lindsay's mom, Dina.
MORE ON:
Oksana Grigorieva