VIDEO: 'Too Fat' American Idol Fan Ashley Kauffman: 'I Want An Apology'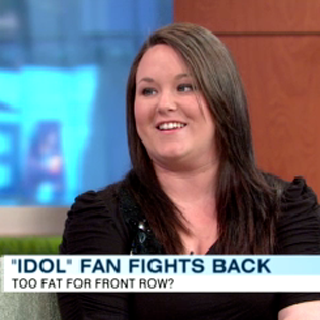 Ashley Kauffman, the American Idol fan who claims she was moved out of the front row due to her appearance, appeared on Good Morning America Wednesday to further chat about the controversy and make it clear what she wants: an apology.
As RadarOnline.com was first to report, the Riverside, California native told RadarOnline.com that she and five of her girlfriends got free tickets to attend a recent broadcast of the show, and while three of her friends nabbed front row seats, she was allegedly told, "Oh no, you're just too big, too heavy to be in front!"
Article continues below advertisement
The show's parent company, FremantleMedia North America, has responded to the budding controversy, saying her allegations were "simply untrue" and that Kauffman was only re-sat due to floor arrangements that had nothing to do with her appearance.
Not so says Kauffman, who stated her case again on GMA Wednesday.
"We got down there, we were excite when we got there, I was told by one of the show's staffers that I was too big and too heavy to be in front," she said, adding she was "taken aback.
"Honestly, I don't think I am disgusting-looking... I always believed God made me the way he wanted to make me and he doesn't make mistakes... I was taken aback, quite a bit."
Kauffman, 19, said that she'd be positioned directly behind her pals, but she was taken far away from them. (FremantleMedia said Kauffman "and her remaining party were seated just four rows behind their friends, directly in camera shot, in some of the best seats in the house.")
Article continues below advertisement
Kauffman said when an usher took her to the very last row of the section, he eyed her and told her it makes sense why she'd be separated from "the skinny girls."
Kauffman said she just wants "an apology" from the show, adding "it's very offensive to me that people think I want fame or money, and I haven't mentioned money at all."
Kauffman said she doesn't want anyone else to be treated the same way she was.
"The feeling was horrible... I'm just lucky enough I'm a girl, and I didn't go into self-harm... the wrong girl would have taken it horribly," she said.
"You look beautiful... thank you Ashley," GMA's Robin Roberts told her.