Exclusive
VIDEO: The Judds Insist New Show Is Not 'Reality' -- 'It's A Docu-Series'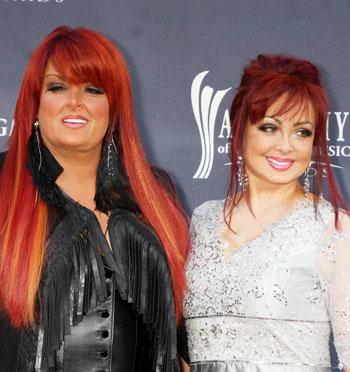 The Judds are giving a new definition to reality TV.
In a live interview with WGN Morning news in Chicago, Wynonna and Naomi Judd insisted to reporters that their new show, The Judds, is far from reality, and RadarOnline.com can bring you the clip.
"It's not reality!" Wynnona said, with a laugh.
"It's a docu-series," her mom agreed.
A confused reporter, asked: "what's the difference?"
"Because she has her reality and I have mine," Wynnona responded.
Article continues below advertisement
"They're not the same!" her mom chimed in.
When the reporter asked the country duo to address why this was the right time for them to star in their own TV show, Wynnona sniped with a smile "Cause we can!"
Mom Naomi was a bit more diplomatic though: "I wanted to hold myself accountable... I wanted to make sure that I'm being transparent and honest about the work I'm doing to live a better life."
"I know a great answer because it's the truth for me," Wynnona said. "I'm just so sick of the crap out in the world that's so negative that I want people to enjoy and celebrate with us…we're really good and we're better not bitter…"
The interview took another tenuous turn when Naomi abruptly interrupted the reporter after they asked about Ashley Judd's shocking memoir that was released last week, revealing her sexual abuse.
"Forget about it! Forget about it!" she said.
"We're not going to talk about that. We love her and support her. Next question,"
Wynnona snapped.Not taking no for an answer, the reporter continued: "Did you come out and say you were sexually abused as well as a result of Ashley's book coming out?"
Article continues below advertisement
As Wynonna shook her head, her clearly annoyed mother responded "no, no, no," but Wynnona interrupted: "You know, we were talking about something really wonderful and you just asked a really negative question that's exactly why we're doing this show because of questions like that."
This unleashed a verbal back and forth, with Wynnona taking a dig at the female journalist.
"That's not what the book is about, that's not what the book is about. If you read the book and know what you're talking about as a journalist you would know that the book is about emancipation," said Wynnona.
"I know, that's the part of it that's in the news," the reporter responded.
"I know, because of the news. If you read the book you'll see how beautiful it is and we support and love Ashley very much," said Wynnona, not backing down.
The male journalist came to his colleague's defense: "But is it disingenuous to say we're going to open our lives up to the entire world, but don't ask me about anything that's real with our family?"
Article continues below advertisement
"We're here to talk about the OWN show," Wynnona sniped.
"The show is actually about Wy and I and it's about the good stuff that we figured out. We took our therapist with us. We call him our big toe because he leads us and he's the one who really showed us what works and doesn't work, the show is goofy and has suspense, of course drama, it's a whole encyclopedic range of how a mother and a daughter have a universal bond…
"We don't mind opening up our lives," Wynnona interrupted again. "I think what we're trying to say is that there's so much good that we're trying to show and it's really sad that people focus on the negative and we're just trying to be a part of the solution not the problem.
"The book that Ashley has out-- read it and figure it out for yourself. But we're here to talk about something that's really sacred to us and so I got personally a little bit offended because I feel like we're trying rally hard to be empowering to our fans and we want the fans to see there's a lot of hope and if we can do it they can do it."