Exclusive
VIDEO: Courtney Love Claims To Have Saved Kelly Osbourne's Life -- Twice!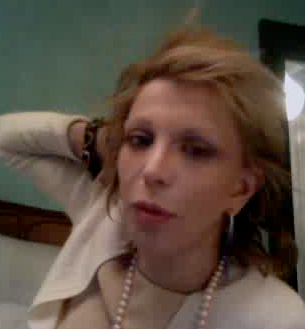 Guess Courtney Love's Girl Scout training has really come in handy!
In a bizarre video chat where she looks rather dazed and confused former drug addict Courtney Love claims to have saved the life of Kelly Osbourne – twice – sharing: "I've done CPR, I've put things in her boobs" and RadarOnline.com can bring you her colorful rant.
The former Mrs Kurt Cobain felt compelled to share all in front of the camera after her "great friend" Kelly referred to Love as a "crackhead" on a recent episode of her E! show Fashion Police.
Article continues below advertisement
Love took to online video site Vyou.com, to bite back at Osbourne and inform the world of her sobriety (save for some wine and the odd "bump".)
"Kelly Osbourne and Joan Rivers called me a crackhead on the E! channel. Kelly knows I've been sober. Kelly knows there's no drugs allowed at my house. I think it's really lame," said the former Hole singer in the rambling video tirade in which she was wobbling in front of the camera and contradicting herself throughout.
Love had initially hit the airwaves to answer a fan's question asking how long she had been sober: "The answer is '05. Since October '05," but was distracted by her distress over Kelly's comments, claiming she'd stopped Osbourne from overdosing during drug binges in the past.
"This girl I know, Kelly Osbourne, I've saved her life twice," ranted Love. "I've done CPR, I've put things in her boobs. (She was on) Oxycontin, coke, foaming at the mouth."
Article continues below advertisement
Courtney Love Posts Racey Photos On Her Facebook Page
Love has endured a lengthy court-ordered rehab stint in the past but that didn't stop her from calling out Kelly for her own partying habits, and making the shocking accusation that mom Sharon Osbourne paid British P.R. guru Max Clifford hundreds of thousands of dollars to keep her daughter's "huge drug problem" out of the press.
After vehemently denying that she is a user anymore, Love then went on to list the pills that she pops including Adderall, Sonata (for sleep)Abilify(which is used to treat depression and bi-polar disorder) and Valium, while giving rambling advice to viewers about what dosage to take.
She shared that she no longer takes Ambien, which she described as "just bad" and explained that switching to Sonata means she no longer wakes up "with eggs benedict one side of the face and chocolate cake on top of your head having written a thousand word love letter to someone you barely know."
Courtney Love's Craziest Moments
Love also admitted to still drinking, despite going through a recovery program. "I drank rosé this year, I had a bump (slang for a line of cocaine)... but I take my program seriously ... I've been drunk this year more times ... than I have in my entire life."
In a bizarre twist, Courtney concludes her monologue by saying her and Kelly are still friends. "Kelly and me get along great ... but it's gross. I don't like being the punchline for drugs when I don't do them, so stop it."
RELATED STORIES: