Exclusive
Tina Fey Explains Why Yellow Is The New Blond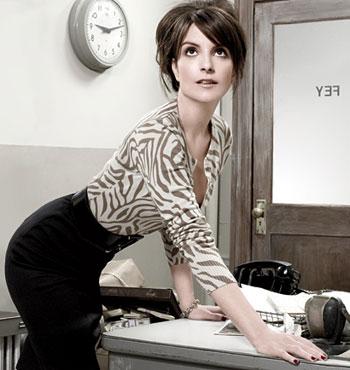 by Radar Staff Reporter
If Tina Fey had her way, they'd change the saying to "Yellows have more fun" ... let us explain.
The 30 Rock star, in an interview for GQ's May issue, discusses a line from her latest book, Bossypants, in which she tells her brunette daughter that people have "yellow" hair, so as not to perpetuate the stereotype "that blond hair is somehow better."
"Let's talk about the hair. Why do I call it 'yellow' hair and not 'blond' hair? Because I'm pretty sure everybody calls my hair 'brown,"' Fey writes. "When I read fairy tales to my daughter, I always change the word 'blond' to 'yellow,' because I don't want her to think that blond hair is somehow better."
Article continues below advertisement
In the new GQ, writer Dan Fierman asks Fey: "My son's blond. Is he superior, or do you have to be a girl for that magic to happen?"
"Oh, it still carries some weight," Fey said. "I think yeah. I wouldn't even bother with him -- he'll be fine. What color are his eyes?"
"Blue," Fierman said.
"Don't even teach him to read," Fey quipped.
More from the hysterical article can be read on GQ.com.
Fey's book, Bossypants, is in stores now.