Reese Witherspoon Celebrates Easter With Her Family At Church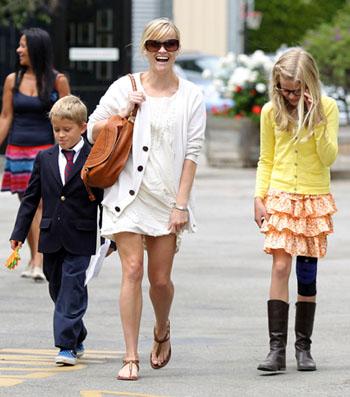 by Radar Staff
It's a very happy Easter for newlywed Reese Witherspoon who was all smiles as she attended a church service with her family and RadarOnline.com has the photos.
The blonde star and her new husband Jim Toth were in high spirits during their Santa Monica outing, and with her two very well-dressed children Ava and Deacon in tow, the group looked like the perfect family.
Witherspoon recently revealed her somewhat smelly Easter game involving socks and eggs.
Article continues below advertisement
"I was trying to think of new games you can play," she told Conan O'Brien. "So I went online and there's this game where you stuff as many eggs into your tube socks as possible and then you have to run a race. Whoever ends up at the end of the race with the least amount of broken eggs wins.
"Literally, it's disgusting and it smells like rotten eggs for about three weeks. But it's fun."
RELATED STORIES: