Exclusive
Radar To Lorenzo Lamas: You're Going To Be A Grandpa!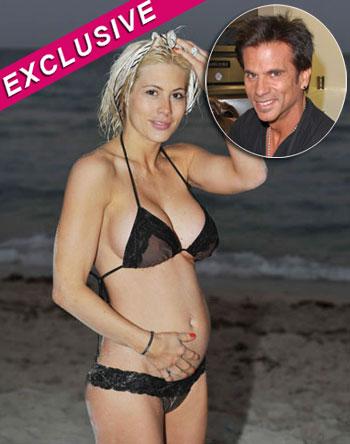 By Alexis Tereszcuk
Radar Staff Reporter
TV hunk Lorenzo Lamas is about to tie the knot with his 23-year-old fiancé, but RadarOnline had some big news for him this afternoon.
He's gonna be a grandpa!
And RadarOnline was first to tell him, after making sure that he sat down.
"I'm speechless," Lorenzo Lamas said. "I'm happy for them . . . I want to be called Papa Lolo by the baby. It's easy for a kid to wrap their tongue around."
Article continues below advertisement
Reality TV star Shayne Lamas, Lorenzo's 25-year-old daughter, is expecting a baby, her husband Nik Richie tells us.
"I'm really excited," said Richie, founder of the racy website The Dirty.
She's due 11-11-11, Nov. 11.
"I didn't want it to get out until I was 100% ready for it but at the same time, she looks beautiful and I think she should embrace her body right now," Nik said of his wife.
And, as our exclusive pictures show, Shayne's already showing!
"I like her boobs more right now," Richie said.
Shayne surprised Richie with a gift-wrapped pregnancy test a few weeks ago.
The two were married in Vegas last April after a seven-hour – Yep, seven whole hours-- courtship. In 2008, Shayne won the right to marry Matt Grant after getting the last rose in season 12 of The Bachelor. The made-for-TV hookup, however, didn't last.
Richie, meanwhile, said he'd prefer a baby boy.
Article continues below advertisement
"If I have a girl I'll probably never talk to the kid, probably file for divorce," he joked. "She'll have an eating disorder by age two."
Shayne's father, who also starred in The Bold and The Beautiful is getting married for the fifth time April 30 in Cabo to his fiancé Shawna Craig.
"It is going to be weird when they have kids and the uncle/aunt is younger than the nephew/niece," Richie said.
Well, get ready for it! Lorenzo said it won't wait long.